Creators on the new Mega Man animated series – more optimistic character, art style, airing on Disney XD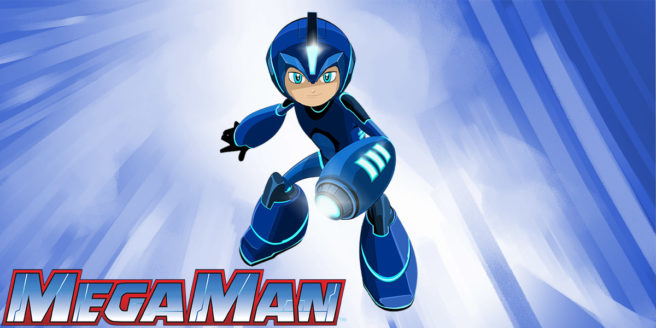 Nerdist posted a new interview yesterday with some of the creators behind the new Mega Man animated series. Steven T. Seagle, Duncan Rouleau, Joe Kelly, and Joe Casey from Man of Action all participated in the discussion. Aside from talk about Mega Man as a character (focusing on optimism), the art style, and other topics, Nerdist also says that the show will air on Disney XD next year.
Per usual, we've rounded up some of the comments below. You can read the full interview on Nerdist here.
On why now's the right time for a new Mega Man iteration…
Duncan Rouleau: Why did we get on board? Well, obviously Capcom is excited to have this legacy character. You know, there's going to be all sorts of stuff surrounding his anniversary, rebirth, and his thirtieth anniversary. So for us, he's kind of a timeless character. What he represents, and that figure, when you see him, instantly, like immediate recognition. Everybody loves this character. So for us, it was an opportunity to take a cool toy, play with it in a new way, and just make a really kick-ass show.
Joe Kelly: I mean, the kind of stuff we've done on Ben 10, and making up Big Hero 6 characters and Generator Rex and Ultimate Spider-Man, it's kind of an interesting thing for us to be able to do that for a character that has a kind of different natural origin, so to speak. Mega Man's had some other shows, Mega Man's had a ton of video games, but I think this is the first time and American team gets to be a creative imprint and go, "What would that be like if it was made here in the West." So we're still very respectful of all that stuff. We're working hand in hand with Dentsu America, working at Capcom, but we're also going, "what would this be like if it had a slightly more American sensibility in the creation?"
On whether there will be any new characters…
JC: One of the things we're doing is keeping names and types you know and then going, "What does that look like right now?" So his family, for instance, has a slightly different shape. They're all familiar, but they have different kinds of things they're doing. But if there are characters from Mega Man that you like, for example, they're probably around, but in a shiny new wrapper in a new way. The villains, I mean, there's so many of them; we're still in the geek phase of going, "Oh, I want to do this one, I want to do this one!" While that's going on, we haven't needed to make any more yet. New takes on old names, for sure, though. …Not only are there Fan Man and Shock Man and Elec Man and all of them, but we brought in some women characters as well.
On the art style…
JK: Duncan can draw and he drew that stuff. We worked very closely with Capcom and they had a lot of very specifics that they wanted to keep and also that they didn't want to go near some other things. They've got a lot of, well, I can't say what is happening…
DR: Let's just say they had some very particular aspects they wanted represented in this style. So, it's most definitely guided with them, working with them, but also a little bit of my own style. I love Japanese anime, and especially earlier stuff. When I grew up, it was Speed Racer, Gigantor, most of that kind of stuff. So I have a retro feel or appreciation. It was working with them–Dentsu America, Capcom, and us–and we just went through a lot of different styles and modes.
JK: I literally look through 30 to 50 fins on the head, and then you redo those 30 to 50 with 20 more and it's, like, a lot of fine-tuning. For people that are like, "Why are they doing this?" Well, we spent a lot of time…
On any weird rules in making a Mega Man animated series…
JC: You know, there was a lot of time developing the universe and what the rules of the world are, and that is coherent and informs the Mega Man we wound up with. But like Duncan said, he's a legacy character. You know, 30 years, many iterations, Capcom picks and chooses the things they care about and there are sort of signposts we have to go by. Generally, though, it's like, "What is this world and how is it expressed through Mega Man?" and that's really fun. I mean, the world is crazy.
JK: He's also appeared in a lot of different forms at a lot of different ages, too, so we most definitely zeroed in on a much younger version of him. That was the one we thought squeezed the most optimism, too. And also, we can play a lot, what Joe said, in the world, and his purpose inside the world that he's operating in in the show. So, if there were any rules, it was just making sure he was the little robot that could. So, every bit of his design was an intent to make sure that he looked young.
On what they hope people will take away from this new iteration…
STS: Oh, gosh, I don't know. They should have fun. It's a fun show. What Duncan really hit on the head is that so many of the characters we're surrounded by are cynical and they're not just doing the right thing just because they want to be heroes. Like, we're overcomplicating these characters all the time for younger audiences. He's just a fun, optimistic character who screws up a lot and is trying to figure out his way. He's not perfect, but he wants to do the right thing.
JC: We're spending more time with Aki, the human side of the character, and we mentioned that so we can come clean that it has a little more than the fighting element. It's got some life in it.
DR: And, you know, like Steve said, there are plenty of darker elements. It's still very fun, but we aren't shying away from some more heavier elements in it. I think it's about time we have a character who just does the right thing.
Leave a Reply