Crysis 2 Remastered Switch physical release revealed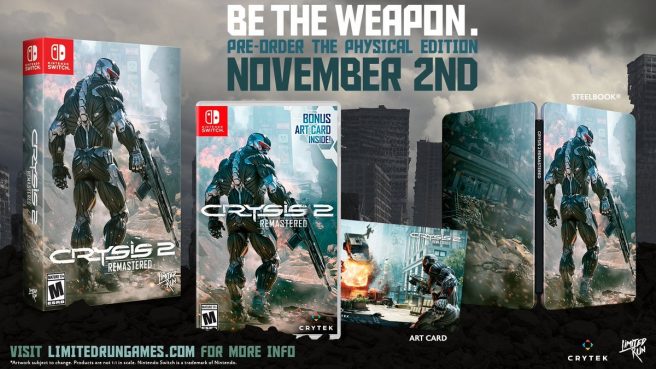 Today, Limited Run Games unveiled a special physical release for Crysis 2 Remastered on Switch. Pre-orders will be opening next month exclusively through the company's website.
Fans will be able to choose between a standard release and a collector's edition. For those going for the latter version, you'll receive the game, the official soundtrack, a steelbook, double-sided poster, and other goodies.
Crysis 2 Remastered is about to make its first appearance on Switch, as it'll be available digitally on October 15. Crysis 1 Remastered launched on the eShop last year and recently had a physical version at retail. The only missing part of the equation now is Crysis 3 Remastered. It's unclear if this one will be going to retail or if Limited Run Games will again be in charge of distribution. We'll pass along an update as soon as there's news to share.
Pre-orders for the physical versions of Crysis 2 Remastered on Switch open on November 2 at 9 AM PT / 12 PM ET / 5 PM in the UK / 6 PM in Europe. Reservations will be up for six weeks. If you'd like to put in a pre-order, you'll be able to to do so here.
Leave a Reply