Cuphead Collector's Edition revealed, more details on physical release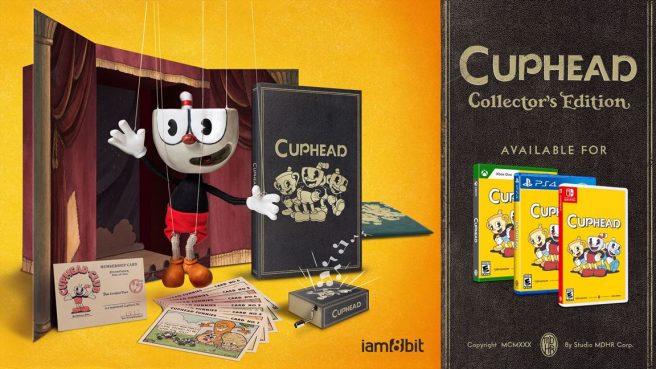 Original: A few details were shared about the Cuphead physical release last month, but we now have more information – including news about a collector's edition.
The collector's edition will be an iam8bit exclusive. Aside from a physical copy of the game with The Delicious Last Course on the cartridge, it comes with a handcrafted Cuphead marionette made by the Legendary Artisans at Rici Marionettes in Prague, a hand-crank music box, six "Cuphead Funnies", an individually numbered membership card, foldout Inkwell Isles poster, a Classy O-Sleeve, interior artwork, and a premium transforming outer box featuring the Asbestos safety curtain.
Speaking about the physical release for Cuphead, Studio MDHR director Maja Moldenhauer said: "A physical edition of Cuphead is something we've been excited about for a very long time. A big part of the nostalgia that fueled the design of Cuphead centers around the wonderful, tactile experience of getting that game you love off the shelf, opening the case, and diving into a new challenge or grand adventure. There's nothing quite like it, and we couldn't be more thrilled with the teams at iam8bit and Skybound for helping us bring Cuphead into players' hands with the same meticulous care and craftsmanship that underpins how we made the game itself. In a year full of so much excitement here at Studio MDHR, I truly can't think of a better way to round things out than with this release."
Here's a trailer announcing the physical release:
The physical release of Cuphead will be in stores on December 6, 2022 followed by the collector's edition in Q1 2023. You can pre-order the collector's edition here.
---
Update: Amazon has opened pre-orders for the standard version of Cuphead here. There's also a slight discount.
---
Nintendo Everything is a participant in the Amazon, Best Buy, and GameStop affiliate programs. The website may receive a partial commission through orders placed with these retailers.
Leave a Reply