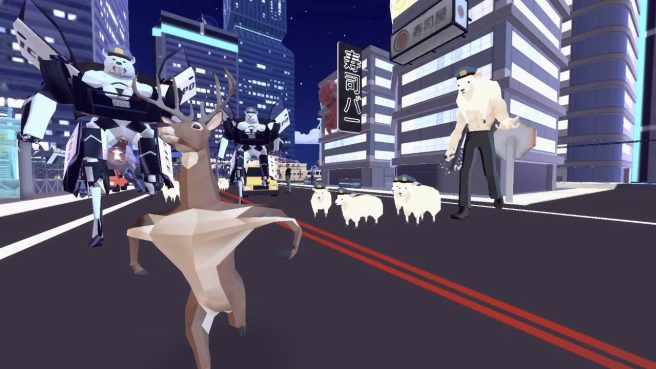 Ahead of its debut on Switch later this week, we have gameplay of DEEEER Simulator: Your Average Everyday Deer Game. Today's video shows off a half hour of footage.
Here's some information about the title:
DEEEER Simulator is a game in which you take on the role of your average, everyday deer. Use your stretchy neck, your stabby horns, and everything a deer has in its arsenal to tear through the city. Frolic and play with the other animals or decimate the city till there's nothing left in this "slow-life town destruction game".

Get up to enough naughtiness and you'll have to face off against some extra-tough animal police. Kung fu master sheep, bears who transform into police cars, and rabbits with ridiculously over-developed ears… They're all out to get you!
Live life as a deer in the city and unleash your true potential!

And don't forget to uncover the dark secret behind the city…
Take a look at the gameplay for DEEEER Simulator below.
DEEEER Simulator: Your Average Everyday Deer Game is due out for Switch via the eShop on November 25 (a physical version is planned for Japan and comes with English). It'll support English, Japanese, French, German, Italian, Spanish, Korean, Russian, Chinese, and Portuguese language options.
You can access the official site here.
Leave a Reply