Doom Eternal getting a physical release on Switch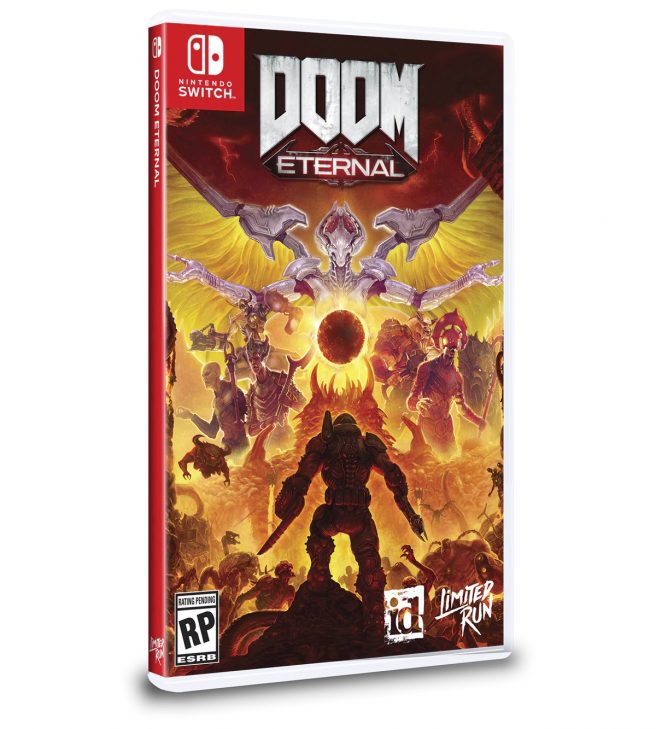 Limited Run Games has offered a few different Doom titles on Switch in physical format, and the tradition continues with Doom Eternal. Plans for a boxed edition were just announced just the company's digital showcase.
We've actually come full circle with Doom Eternal. When the title was first announced, there were plans for a retail launch. However, the Switch version ended up being delayed, and the physical version was scrapped. Limited Run Games has now come through with plans for a boxed version.
Everything you need to know about Doom Eternal can be found in the overview below.
Doom Eternal, the award-winning game and "one of the best first-person shooters ever" according to GameRevolution, is coming to Nintendo Switch. Developed by id Software and Panic Button, Doom Eternal is the direct sequel to DOOM, winner of The Game Awards' Best Action Game of 2016.

Hell's armies have invaded Earth. Become the Slayer in an epic single-player campaign to conquer demons across dimensions and stop the final destruction of humanity. The only thing they fear…is you.
Features:

Slayer Threat Level at Maximum

Experience the ultimate combination of speed and power in DOOM Eternal—the next leap in first-person combat powered by idTech 7. Armed with a shoulder-mounted flamethrower, wrist-mounted blade, upgraded guns, new abilities and more, you're the greatest demon slayer in existence.

Push-Forward Combat

Take what you need from your enemies. Glory Kill demons to recover health, incinerate them to receive armor and cut them down with the Chainsaw to stock up on ammo.

Motion Aiming Ready

Improve your aim with a control option that allows you to aim using gyro controls. The option can be used in conjunction with the control stick for the perfect blend of immersion and accuracy.

Enter BATTLEMODE

A new 2 versus 1 multiplayer experience pits a fully-armed DOOM Slayer against two player-controlled demons, fighting it out in a best-of-five round match of intense first-person combat.
Fans can pre-order the physical release of Doom Eternal on Switch beginning July 8, 2022. Limited Run Games will have it here.
Leave a Reply