Dragon Quest creator Yuji Horii shares a message to those playing the first three games on Switch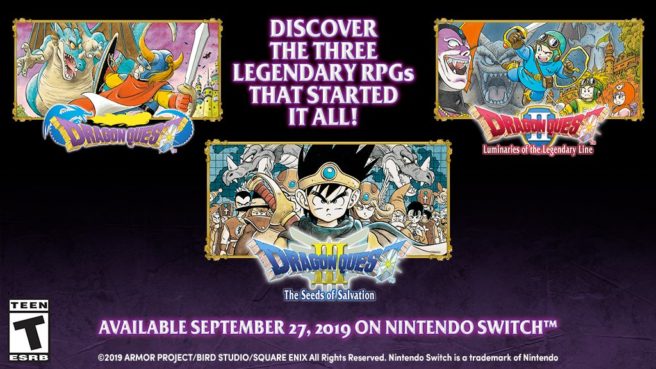 Dragon Quest, Dragon Quest II, and Dragon Quest III are out on Switch starting today. To celebrate, series creator Yuji Horii has shared a new message with fans.
It reads in full:
Greetings to all who will rediscover the Erdrick trilogy this week! This is Yuji Horii!

I'm very excited that the original Dragon Quest, Dragon Quest II: Luminaries of the Legendary Line, and Dragon Quest III: The Seeds of Salvation are available for modern consoles. Looking back, 1986 was the year the first Dragon Quest released in Japan, and I will never forget how special that year was for me. The entire development team had no idea what to expect, but it was extremely moving to see the franchise that was new and unknown grow into one with a passionate fan base. It was incredible seeing a huge line of fans waiting to purchase Dragon Quest III in stores!

Now that it's already 2019, we've celebrated many milestones including the 30-year anniversary and the release of many Dragon Quest games. The development team have made numerous tweaks and improvements to optimize these hugely popular classics for the modern hardware generation, so that players can enjoy them on TV screens in exactly the same way that the original fans did with the Famicom release in 1986. But today, you'll also be able to carry the games on the go!

Whether you're a new player or returning to the series, this is where the magic of Dragon Quest all began. I hope that the retro gameplay brings you a smile as you, the hero, experience an epic journey. Thank you to all the western fans who embraced our adventures, and in closing, I want to remind you that life is an RPG, so have fun!

Sincerely,

Dragon Quest series game designer, Yuji Horii
Dragon Quest, Dragon Quest II, and Dragon Quest III can be found on the Switch eShop. A physical release is due out in Asia this year as well, and English support will be included.
Leave a Reply