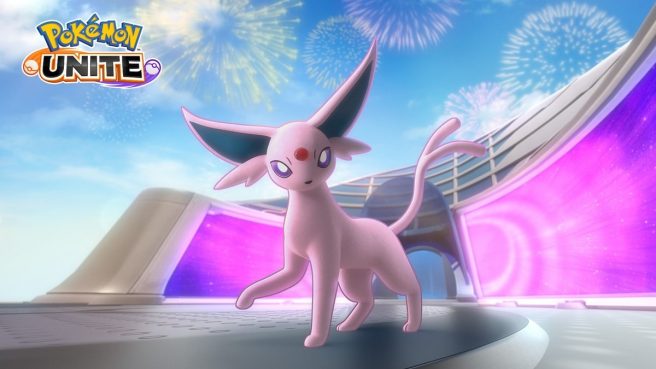 Espeon is joining Pokemon Unite as the game's next playable character, it's been announced. All players will have access starting on May 16, 2022.
Thus far, it's only been confirmed that Espeon will be ranged attacker. Other than that, no other information has been shared. A trailer has also yet to be published, though that may follow at a later date.
Espeon joins the Pokemon Unite roster that has continued to expand since launch. Back in April, Azumarill was made available in the game. Prior to that, it was Duraludon that made it into the game. Other playable characters include Hoopa, Trevenant, Dragonite, Tsareena, Greedent, Sylveon, Mamoswine, Blastoise, Blissey, Gardevoir, Zeraora, Pikachu, Charizard, Snorlax, Crustyle, Greninja, Eldegoss, Talonflame, Lucario, Venusaur, Mr. Mine, Slowbro, Absol, Machamp, Wigglytuff, Alolan Ninetails, Cramorant, Gengar, Carchomp, and Cinderace.
Pokemon Unite is currently available on Switch as well as mobile via iOS and Android, and it can be experienced as a free-to-play game. You can visit the official website here for lots of additional information.
Leave a Reply