Etrian Odyssey V launches October 17 in North America, new Fencer class trailer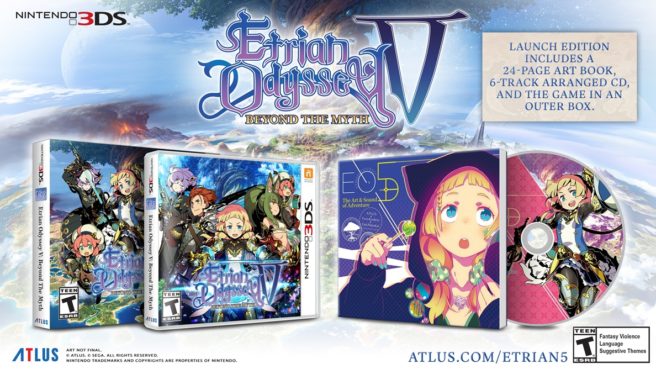 Etrian Odyssey V will launch in North America on October 17, Atlus announced today. The European release date will be shared at a later date.
As previously mentioned, those who pre-order Etrian Odyssey V or pick it up around launch day will receive the limited edition pictured above. It includes a copy of the game, a 24-page art book, 6-track music CD, and outer box.
Finally, Atlus sent out a new Etrian Odyssey V trailer focusing on the Fencer class. We have the video along with a brief introduction below.
There are a lot of monsters that call the Yggdrasil home. Sure, cold hard steel and explosive gunpowder can usually get the job done, but sometimes a little more "oomph" is required when dealing with these pesky beasts. Thankfully, the Celestrian's Warlock class provides a magical spark to these engagements. And when we say spark, we actually mean ancient power that can summon raging fireballs, monstrous hailstorms, amplify other magical abilities, and more! As they level up, Warlocks can further specialize in base elemental skills (fire, ice, and lightning) or branch out to learn new elemental earth and wind spells.
Leave a Reply