FIFA 23 Legacy Edition is Switch Online's next Game Trial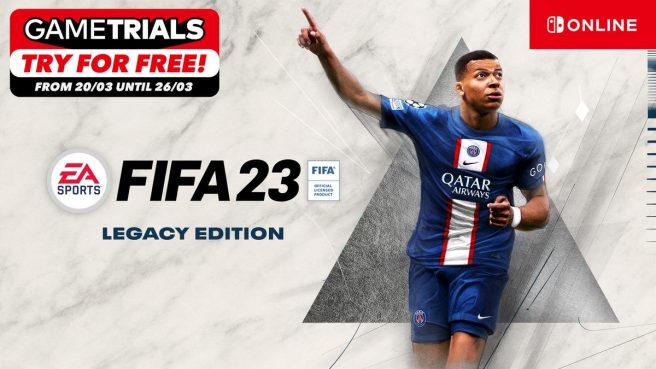 Original (3/13): Nintendo has announced that FIFA 23 Legacy Edition will be offered to Switch Online members in Europe as the service's latest Game Trial.
Those with an active subscription can play the game for free starting on March 20, 2023. The full experience will be available until the end of the event. Additionally, save data is compatible with the full title.
Usually Game Trials are accompanied by sales of the main game. Thus far Nintendo hasn't announced anything on that front, but it's something to keep an eye on.
Additionally, we only know at the moment that FIFA 23 Legacy Edition will be a Game Trial in Europe. Nintendo hasn't shared any similar information for North America as of now.
Here's some information about the game:
FIFA 23 Legacy Edition features the latest kits, clubs, and squads from some of the top football leagues of the world. It will also feature the addition of top women's club teams and some of the world's most famous stadiums, including brand new ones, an updated visual identity and a refreshed broadcast overlay package.
FIFA 23 Legacy Edition will feature the same Gameplay features and modes from FIFA 22 Legacy Edition without any new development or significant enhancements.

The following Game Modes will be included in FIFA 23 Legacy Edition with the same features from FIFA 22 Legacy Edition.

• Kick Off
• Career Mode
• Tournaments – Licensed and Custom, including the UEFA Champions League
• Women's International Cup
• Skill Games
• Online Seasons & Friendlies
• Local Seasons

FIFA 23 Legacy Edition will feature a select number of FUT Campaigns throughout the Season.

FIFA ULTIMATE TEAM will include:
• Manager Tasks
• Single Player & Online Seasons, Tournaments & Draft
• Online Single Match
• Squad Building Challenges

This game includes optional in-game purchases of virtual currency that can be used to acquire virtual in-game items, including a random selection of virtual in-game items.
---
Update (3/22): The same Game Trial has now been announced for North America. This will be live between March 23 and March 29 in the states. It'll also be on sale until April 3 at 11:59 PM PT.
Leave a Reply