Fire Emblem Heroes – Feh Channel live stream, live blog (4/9/18)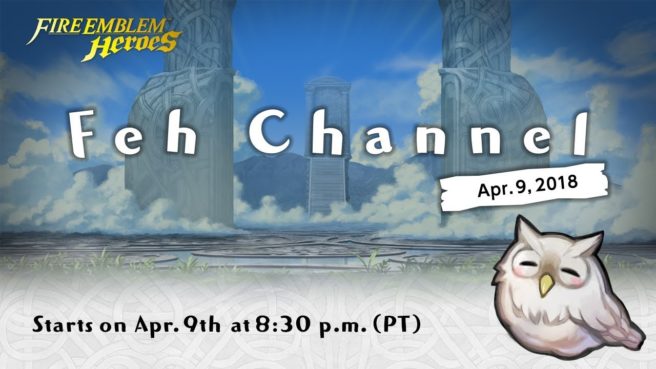 The next Feh Channel broadcast for Fire Emblem Heroes will be kicking off not too long from now. it's set to begin at 8:30 PM PT / 11:30 PM ET / 4:30 AM in the UK / 5:30 AM in Europe. Nintendo will be sharing the latest information about Fire Emblem Heroes in the 17-minute presentation.
You can watch the live stream as it happens below. We'll also have a live blog going, so stay tuned for news.
Live blog
New Heroes Summoning Event – World of Thracia
– Finn: Lance of Legend
– Leif: Prince of Leonster
– Nanna: Nordion Princess
– Reinhardt: Thunder's Sword
– Olwen: Righteous Knight
– Beginning April 11 at midnight PST
– Can recruit Finn during the next Tempest Trials
Next update
– New weapon skills
– New options in the Weapon Refinery
– Forblaze and Nameless Blade skills will be added to the Weapon Refinery
– Updates to Tempest Trials
– Automatic recommendation on what difficulty to play
– Boost to all allies during the first 2 battles of the day
– Less stamina needed to jump into a map
– Event length reduced from 10 to 10 days
– Score required to earn rewards will drop like Tempest Trials Mini
– Event name will be called Tempest Trials+ now
– Slated to begin on April 21
– Easier to earn points and rewards
– Hero rarity changes
– Some Heroes who were 4* or 5* will now appear at 3* or 4*
– New Home screen banners
– Improvements to Friend List
– Friend cap increased to 100
Grand Hero Battles
– Second daily Grand Hero Battle Revival rotation
– Beginning April 11
– Current set of daily Grand Hero Battles won't be going away
– Take on 2 every day
– Grand Hero Battle Saias: Bishop of Flame begins April 17
– For Grand Hero Battles, required stamina going to 0
– This starts tonight
Grand Conquests
– New event
– Summoners join one of 3 armies
– Battle to control territory
– Continent divided into 30 areas
– Each area given its own color: red, blue or green
– Signifies which army has control
– Each summoner automatically assigned to one of these armies
– Conquer as many areas as possible
– Attack areas when they're controlled by opposing army
– Can only attack areas that neighbor an area you have control over
– Grand Conquest has its own stamina
– One stamina per hour
– Up to 8 stamina at a time
– Battles are like the Rival Domains maps
– Have to worry about both attacking and defending territory
– Scores are tallied every 2 hours
– GC Tier: the more points you earn, the higher tier you get
– Earn rewards as you ascend through the tiers
– Once you reach a high enough tier, bonus points will be added to neighboring areas after you battle
– Starts midnight on April 13 lasting until April 18 at 11:59 PM PT
– Dev team will implement improvements based on feedback
– 20 Orbs for Grand Conquests Kick-Off Bonus
Leave a Reply