Fire Emblem: Three Houses introduces Jeralt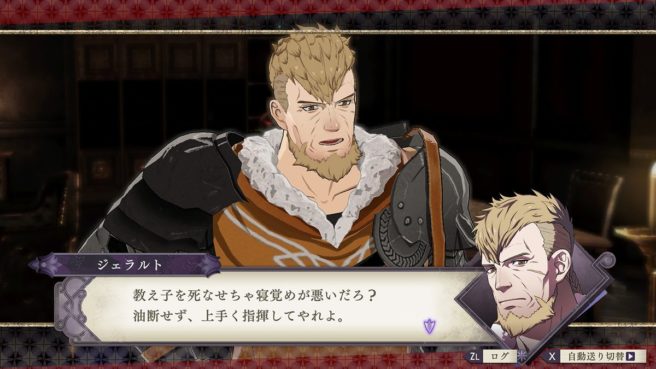 Nintendo and Intelligent Systems are back again with another character introduction for Fire Emblem: Three Houses. Today's update is for Jeralt, who is voiced by Akio Ootsuka in the Japanese version.
Jeralt play the role of the protagonist's father, but is also a veteran knight. He previously served as the head knight for the Church of Seiros, and was considered to be the strongest knight ever. He ended up leaving his position and became a mercenary. Sadly, his wife has already passed away. Jeralt returns to the Knights of Seiros towards the start of Fire Emblem: Three Houses after students are saved from the Officer's Academy.
Here's a closer look at Jeralt:
ジェラルト
CV:大塚明夫
主人公の父。かつてセイロス騎士団で団長を務め、歴代最強の騎士とまで謳われた熟練の戦士。騎士団を離れてからは傭兵団を率いて旅を続けていた。妻は既に他界している。
盗賊から生徒たちを救ったことが転機となり、再び騎士団に身を置くことになる。 #FE風花雪月 pic.twitter.com/rvzTP5kqzd

— 『ファイアーエムブレム』総合 (@FireEmblemJP) May 4, 2019
主人公を気づかうジェラルトとの、親子の会話です。 #FE風花雪月 pic.twitter.com/8XztR7t0eM

— 『ファイアーエムブレム』総合 (@FireEmblemJP) May 4, 2019
Leave a Reply