First 4 Figures reveals Banjo-Kazooie Gruntilda statue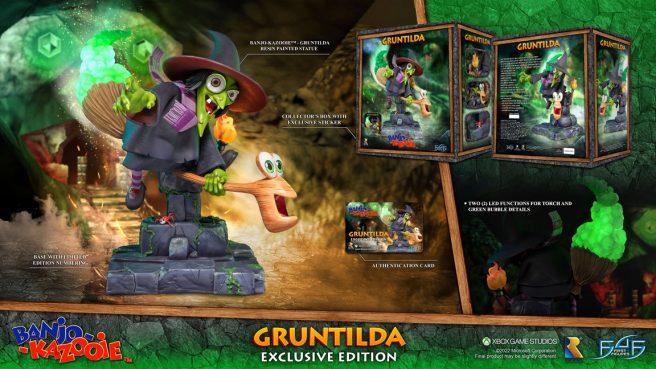 First 4 Figures has revealed a new addition to its Banjo-Kazooie line. Gruntilda, the primary antagonist of the N64 platforming series, is receiving a new statue.
Each unit includes the Gruntilda painted resin statue, detailed base inspired by Gruntilda's Lair, limited edition numbering, and authentication card. If you opt for the exclusive edition, it'll come with LED functions for torch and green bubble details.
Here's the official product description:
First 4 Figures is proud to present their latest resin collectible, Gruntilda! This is the fourth statue to join our Banjo-Kazooie lineup! The wicked witch who can do no good has been beautifully replicated here. Gruntilda is brought to life along with her broomstick, sculpted to look as if she's flying while her black ensemble acts as a clear canvas that makes all the bright colors in the statue pop! The vibrancy calls back nicely to the video game's unique aesthetics. The base has brick details which go hand in hand with the torch and bug details, capturing the iconic Gruntilda's Lair from the video game.

Product Size:

Statue including base:
W: 17.3" / 44cm
D: 18.9" / 48cm
H: 15.7" / 40cm
Weight: 8.164kg
And below is a closer look with a new video:
The Banjo-Kazooie Gruntilda statue from First 4 Figures is estimated to ship in Q3 2022. Pre-orders are now open here.
Leave a Reply