First 4 Figures reveals We Love Kirby statue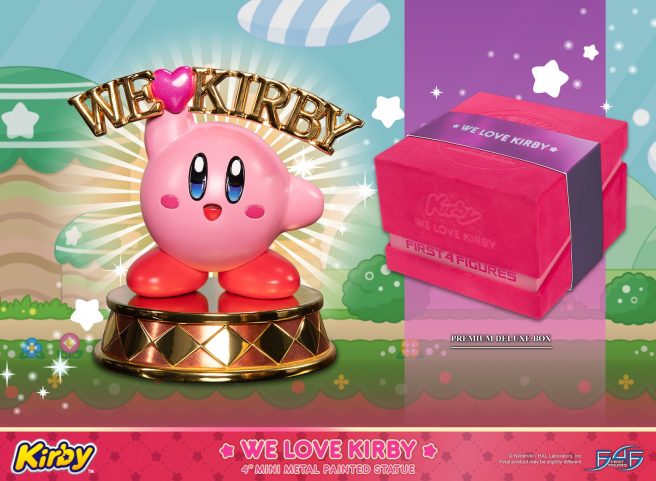 First 4 Figures has unveiled a special We Love Kirby metal painted statue. It's the first part of the company's new Kirby Mini Metals lineup.
Below is the official product description:
The statue is inspired by the "We Heart Kirby" sign that emerges from the ground at the end of the game. The "We Love Kirby" statue is beautifully replicated by having the original scheme. The words "We Heart Kirby" are portrayed in gold and the heart is a bright metallic pink. The glossy finish in Kirby's iris with the gradient makes him look more animated. His body and feet have a matte finish which makes it seem as if Kirby is holding up the sign himself.

To go with this dynamic statue, the base has triangles on the sides. It has been plated with a darker, reddish gold which brings out the layers of gold, making the structure more dynamic. The gold plating has a reflective finish, making it look shiny, and makes the spherical aspect of Kirby stand out!
And here's a video:
First 4 Figures' offerings can be quite pricey, but this statue will be a bit more affordable. Right now there's an early bird price of $59.99.
The We Love Kirby statue from First 4 Figures is estimated for release in Q2 2023. You can put in a pre-order here.
Let us know what you think of the new statue in the comments.
Leave a Reply