Former staffers on "mass panic" at Nintendo that Zelda / Mario wouldn't win Game of the Year at The Game Awards 2017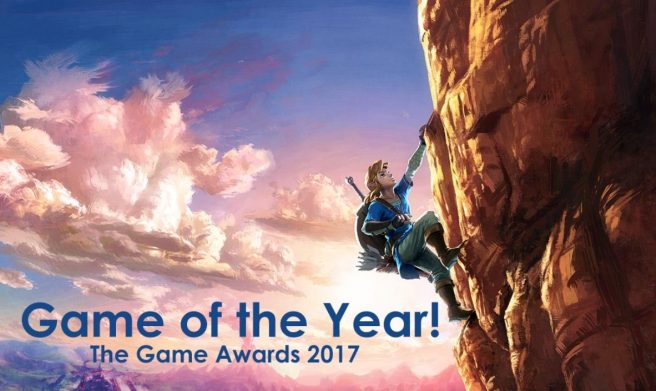 During their latest podcast, former Nintendo of America staffers Kit Ellis and Krysta Yang (known for the long-running Nintendo Minute show on Nintendo's YouTube channel) shared insight into the Big N's presence at The Game Awards 2017, including how there was some internal concerns that the company wouldn't win the coveted Game of the Year prize.
2017 was a massive year for Nintendo. The Switch itself launched in March, and a bunch of big games released, including The Legend of Zelda: Breath of the Wild and Super Mario Odyssey. In the end, it was Zelda that won Game of the Year.
But before the show, Ellis said one person at the company put out a theory that Mario and Zelda would split the vote, and Horizon Zero Dawn is the title employees thought could end up being selected. Ellis said it "got people shook", and despite feeling they had the best games that year, they started to think "some other game that is less deserving could get more votes and actually win." He added that staffers at Nintendo "got worked up over this catastrophic scenario." Yang mentioned "there was mass panic" and that she "had never seen something that was from a high to a low like that before."
Ellis and Yang said they personally didn't buy into the theory. Ellis was surprised at how much it caught on and "how much people were worried about it."
Some other interesting tidbits were shared about The Game Awards 2017 during the podcast. As one example, if Super Mario Odyssey won Game of the Year, producer Yoshiaki Koizumi would have come on stage in his red jacket that we saw him wear during events like Nintendo Directs, and someone would have tossed him Cappy.
Another detail is how, according to Yang, Nintendo spent "months" on acceptance speeches with Ellis adding they'd been rewritten thousands of times. The Zelda team was practicing their activities for The Game Awards until around 8 PM the night before, but the Super Mario Odyssey team was apparently around until midnight or so.
If you're interested in looking back at The Game Awards 2017, we have the list of winners here. We also have the list of nominees for this year's show here, which is happening on December 7.
You can listen to the full episode of the latest Kit & Krysta Podcast here.
Leave a Reply