GameStop on the positive sales impact of Switch, strong demand to continue, pre-owned sales talk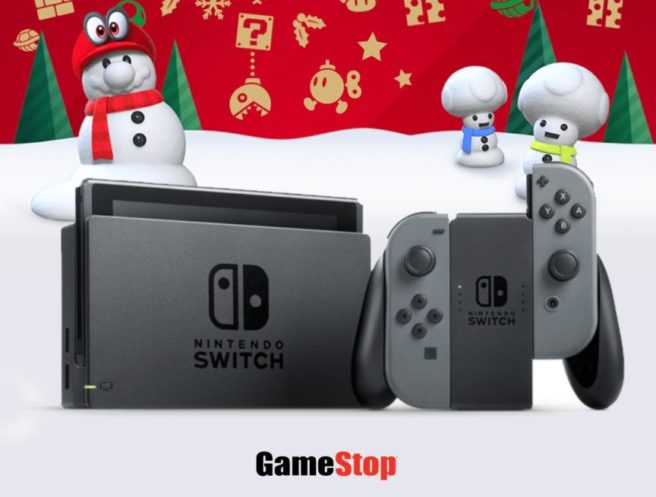 GameStop reported its Q3 financial results this week. The retailer said that Switch has experienced "continued momentum" and help drive an 8.8% increase in hardware sales last quarter. Additional details about the impact of Switch were shared during a financial call.
According to CFO Rob Lloyd, GameStop still has the "market leading share on Switch and the highest attaching the industry." Additionally, "GameStop has leading Switch hardware and software market share in the U.S. and in most of our international markets."
Nintendo's console helped offset decline in certain areas. As one example, while pre-owned sales were down, new software sales growth was driven by Switch.
Lloyd also said in the call that demand is still strong. GameStop anticipates "continued strength in demand for Switch through the holiday sales season." GameStop expects its Q4 hardware sales to be driven by Switch.
Regarding Switch demand and supply for the remainder of the year, Lloyd said:
"Our expectation is that demand for Switch will continue to outpace supply for the remainder of the holiday season and for this to be one of the most sort after gifts. We are working closely with Nintendo to ensure that we are best able to meet the holiday needs of our customers."
Lastly, one interesting question was brought up concerning pre-owned sales. When asked when Switch will be a factor in that area, executive chairman and interim CEO Dan DeMatteo as well as CEO Tony Bartel responded with the following:
"So, what we see there is actually an interesting dynamic relative to where we were four years ago. So, on the Switch, we would expect that that would be a more meaningful contributor to our preowned business probably in the latter half of 2018, just recognizing that part of that dynamic is that it's the new console on the block. So, people that are buying the Switch are playing those franchise titles that Nintendo has released Zelda, Mario Kart, Super Mario that keep them engaged with that platform.

In contrast, if you look back four years ago, it did not take as long for the PlayStation 4 and the Xbox One to work their way into our preowned business because you had those two consoles kind of competing with each other. And so, you had that consumer that would try one and decide they wanted to go with the other traded in and sort of switch [indiscernible]. So, the dynamics is just different this time." – Dan DeMatteo
"Generally, about 180 days is typically what we see of games on consoles coming in, on average that has been kind of the last 10-year average, like Rob said and the Switch console may elongate a bit." – Tony Bartel
Leave a Reply