GameStop to distribute Shiny Lunala / Shiny Solgaleo for Pokemon Sun / Moon / Ultra Sun / Ultra Moon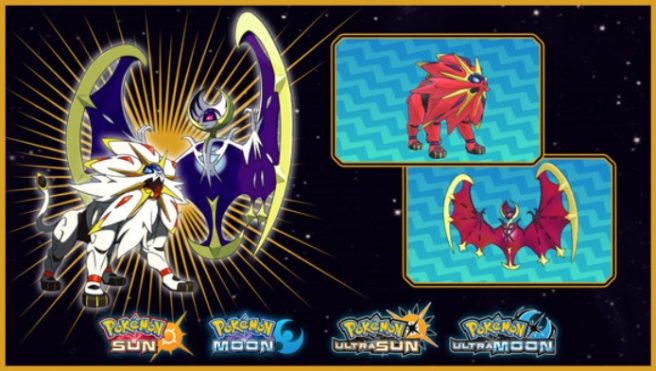 A new distribution has been announced for Pokemon Sun, Moon, Ultra Sun, and Ultra Moon. Between October 21 and November 10, players can obtain either Shiny Lunala or Shiny Solgaleo.
Shiny Lunala will be Lv. 60 with the moves Moongeist Beam, Psyshock, Moonblast, and Moonlight. Likewise, Shiny Solgaleo will also be Lv. 60, but has the moves Sunsteel Strike, Zen Headbutt, Noble Roar, and Morning Sun.
Players will need to use the Pokemon Pass app for iOS or Android to receive a code. If you enter that code in Pokemon Sun / Ultra Sun, you'll receive Shiny Lunala. Pokemon Moon / Ultra Moon players can receive Shiny Solgaleo. Note that codes can be used only once.
Use the code and follow the steps below to get Shiny Lunala or Shiny Solgaleo:
1. Open your Pokémon Ultra Sun, Pokémon Ultra Moon, Pokémon Sun, or Pokémon Moon game.
2. Select Mystery Gift on the main menu.
3. Select Receive Gift.
4. Select Get with Code/Password, then Yes, then Yes again to connect to the internet.
5. Enter your code.
6. Watch as the Legendary Pokémon arrives in your game.
7. Speak to the delivery person in any Pokémon Center to receive your Legendary Pokémon.
8. Be sure to save your game.
Leave a Reply