Gorons were originally going to look "drastically" different in Zelda: Breath of the Wild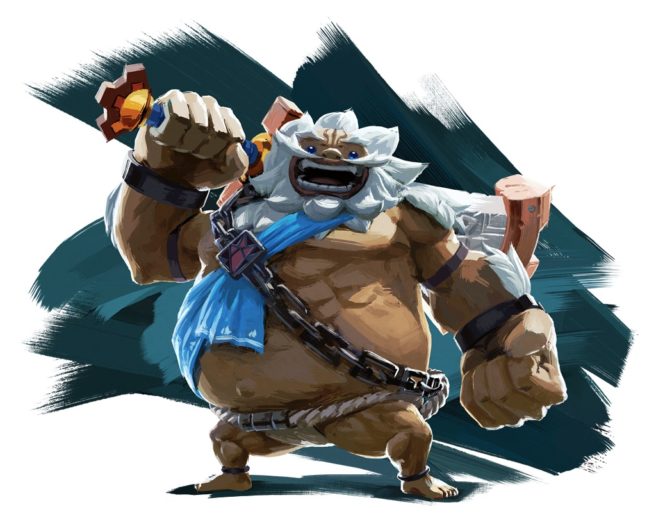 When The Legend of Zelda: Breath of the Wild was early on in development, Nintendo had some very different ideas in mind for the design of the Gorons. Lead NPC artist Hirohito Shinoda revealed in the recently-translated Creating a Champion art book that the team was planning a drastic change in which they had bigger heads, a more human-like appearance, and more. However, "none of them really fit." This led to basing the Gorons on their original design from Ocarina of Time.
Shinoda said:
"At the beginning of development, we tried to drastically change the Gorons' appearance compared to past titles. I made their heads bigger, made them more human-like, and explored a lot of different ideas, but none of them really fit. So I returned to their roots and decided to lean into their original design from Ocarina of Time. In recent titles the Gorons have had tattoos, but I thought that due to the anime-likes styling of this title, we should aim to make use of empty space rather than trying to fill it, so I went with a very clean design. Rather than just making them round, I paid close attention to the 3D model to ensure they felt like a sumo wrestler, someone with body fat and muscles, and that they looked powerful."
Shinoda also commented specifically on one of the Gorons, Yunobo. The character ended up going through "some major changes" after he was told that he initially looked "like an old man".
Shinoda stated:
"At first, to make Yunobo look related to his grandfather Daruk, I made Yunobo very familiar – from his hairstyle to his muscles. A lot of people said that it made him look like an old man, so I made some major changes to his design to make him feel younger and sweeter. The character was spwaned from the idea of a character who is cowardly but paradoxically physically powerful. The gap between being very strong with high physical potential while being a bit fragile led to a very charming character."
Leave a Reply