GrimGrimoire OnceMore seeing English release on Switch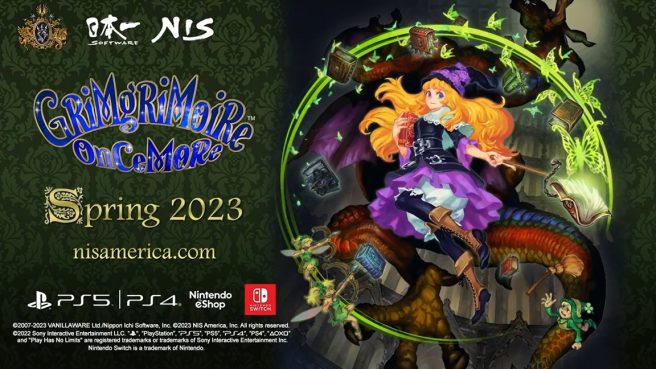 Today, NIS America confirmed that it's working on an English release of GrimGrimoire OnceMore on Switch in the west. The game is expected to launch in North America and Europe in Spring 2023.
GrimGrimoire, a real-time strategy game developed by Vanillaware, first came out in 2007. The "OnceMore" version just launched for Switch in Japan this past July. It includes updated visuals, an art gallery, fast forward and mid-battle save options, tweaks for the hard difficulty setting, skill trees for Familiars, "Great Magic" in battle, and a new voice cast.
Here's some information about the game:
From the developers at Vanillaware, the classic PlayStation 2 strategy game GrimGrimoire is being remastered with brand-new features to explore!

Join aspiring mage Lillet Blan on her journey within the Silver Star Tower, a renowned academy for magicians. All is not what it seems inside the tower walls—mysteries, monsters, and menaces lurk about. Harness the power of magic to dispel the secrets hidden within the tower and discover the truth of the Silver Star Tower once more!

Key Features

Spellbinding Strategy – Magical fantasy meets real-time strategy in this beautifully drawn adventure, filled with classic Vanillaware charm!
Enchanted Enhancements – GrimGrimoire OnceMore expands on the Vanillaware classic with a brand new skill tree, improved user interface, art gallery, and so much more!
Alluring Augmentations – Experience the bewitching adventures of Lillet Blan, now with remastered graphics and beautifully hand-drawn visuals in high definition.
A trailer announcing the English version of GrimGrimoire OnceMore can be found below.
GrimGrimoire OnceMore will be sold at most major retailers, and the NIS America store will be taking pre-orders for a limited edition here.
Leave a Reply