How to unlock the amiibo gazebo in Fire Emblem: Three Houses, confirmed music tracks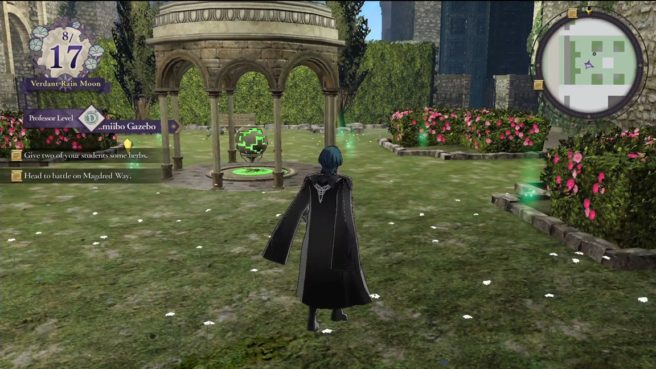 As previously reported, Fire Emblem: Three Houses has an amiibo gazebo. It can be used to obtain various items, but also receive special music tracks. While the feature won't be immediately accessible, it doesn't take long until you gain access.
Destructoid reports that the amiibo gazebo unlocks after completing the game's tutorial mission, getting accepted into the academy as an instructor, and then completing the initial academy tour. The next day, you'll start as a teacher and you can freely tour the academy. You'll also be able to access the gazebo without any guards getting in the way.
After scanning amiibo from the Fire Emblem series, the following music tracks are confirmed to be unlocked so far:
– Tempest of Seasons
– Dwellings of the Ancient Gods
– The Time to Act
– Eternal Bond
– Id (Purpose)
– Conquest (Ablaze)
– Beneath a New Light (Roy's Courage)
– March to Deliverance
– Witch Mila's Divine Protection
– Alright (Storm)
– A Dark Fall (Fire)
– Destiny (Ablaze)
– The World Tree
– Fodland Winds
– Blue Skies and a Battle
When scanning an amiibo outside of the Fire Emblem series, expect the likes of fruit blends, seeds, and potions. Items will show up on the ground as green dots and you can pick them up instantly.
Leave a Reply