[Interview] CyberConnect2 talks self-publishing and Fuga: Melodies of Steel, its new entry in the Little Tail Bronx series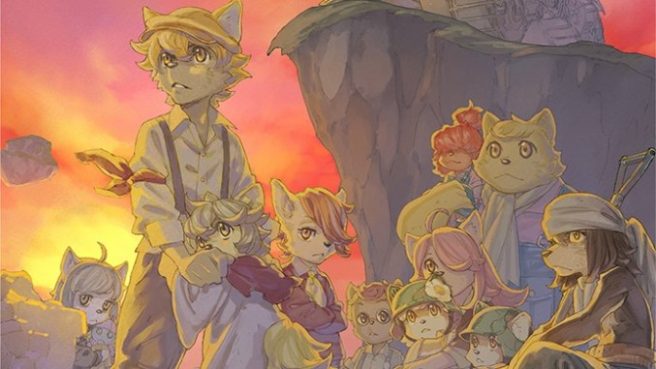 CyberConnect2 has a pretty major game coming out in just a few weeks. The company has been known for working on major manga / anime properties like Naruto and Dragon Ball, but will soon be releasing Fuga: Melodies of Steel. In addition to being a new entry in the Little Tail Bronx series, it's also the very first self-published title from CyberConnect2.
We recently spoke with Yoann Gueritot to talk about Fuga: Melodies of Steel and the company's first foray into self-publishing. You can read our full discussion below.
Can you share a brief overview of Fuga: Melodies of Steel and tell us about your role on the game?

Fuga: Melodies of Steel is our first self-published title, and takes place in the same universe as Tail Concerto (PS1) and Solatorobo (NDS). It is an RPG in which you control 12 children aboard a giant tank, to chase the fascist Berman Army and save their families. As a creative director I was in charge of many parts of the game: I came up with the story and characters, most of the game mechanics, and had to supervise design, graphics and music. As a game designer I was also in charge of level design, as well as various parameters (stats, skills, enemies, etc).

Is there any particular team at CyberConnect2 that's developing Fuga: Melodies of Steel? We know that the company has also been hard at work on Demon Slayer: Kimetsu no Yaiba – Hinokami Keppuutan.

We have different teams for every project, and ours is completely separate from Demon Slayer (even though we help each other when necessary). I am so focused on Fuga I that haven't been able to play it myself yet but I can't wait!

CyberConnect2 has often been known as a company that works with other game publishers, but has gone in a different direction with this particular project. How did the studio become involved with self-publishing?

First, we love to work on big IPs like Naruto, Dragon Ball or Demon Slayer, but we always wanted to also work freely on our own original IPs (actually we'd also like to produce our own manga and anime). The other reason is that with the latest hardware, every title takes a lot of time to make, which is not good for the staff's growth. For example a developper working for 10 years could work on between 6 and 8 PS2 games back in the days, but now he could only work on 2 or 3 new-gen titles. For a game developer more projects means more diversity and thus more experience, and that is why we wanted to make games that don't take 5 years to make.

Since this has been an entirely new venture, what has the experience been like of self-publishing? Was it more difficult than CyberConnect2 imagined it would be?

Promotion, talks with the manufacturers, localization, QA testing—we had to do everything that is usually handled by our publisher ourselves, so yeah, it wasn't easy. However, it was (and still is) a very good challenge, and I would dare say that we managed to handle all of this pretty well for a first timer. It also gave our staff (me included) the chance to look deeper into the gaming industry and understand the whole process of a game's development, which is always good for experience.

How did Fuga: Melodies of Steel come to be? Why was the team interested in making a strategy simulation RPG?

When they asked me to be in charge of the game, the CEO, Matsuyama-san, and the director, Niizato-san had already thought of the base concept (a group of children fighting in a giant tank), and the sacrifice mechanic. From that concept, considering the amount of characters and the fact that each of them should have their own stats and skills, the RPG genre just seemed obvious to us. We tried many things like making it more simulation-related or more action-related, but in the end I pushed to make it more like a classical JRPG, which is my favorite genre. We left aside the simulation part more and more as the development went on, in order to make it easier to play for console players.

We first heard about Fuga at the start of 2018, and there have been a couple of delays along the way. Are there any particular reasons why the game took longer than expected to complete?

Of course COVID-19 had some impact on the development, but the true reason is that we were not satisfied with the quality of the game, and we really wanted the players to enjoy Fuga as we imagined it. That is why we kept iterating again and again, until we reached what we thought to be the ideal formula.

How has it been developing Fuga: Melodies of Steel for Switch?

Nintendo Switch is not a difficult platform to handle, and we didn't have any major problem while working on it. However we tried to be very careful with the font size so it can be read easily even in handheld mode. Personally, I think Fuga is more enjoyable with short play sessions, and it has cute graphics, so it really fits the Switch.

What can fans of the Little Tail Bronx games expect? Are there any cameos or connections related to previous entries?

All I can say is that Fuga's story is completely independent from the previous games, but Solatorobo fans might see some good surprises…

Has it been challenging at all to get the game ready for a simultaneous release in both Japan and the west?

We were planning on releasing the game in several languages from the beginning so we could start thinking about localization issues pretty early in the development. It is never easy to do, but the company's experience on its previous titles and our awesome localization team definitely helped. By the way, we plan on adding German and Korean sometime in November, so even more people can enjoy the game.

We previously heard that CyberConnect2 intended to make a physical version available, but at least at launch, that doesn't seem to be planned. Will a boxed edition be offered at some point in the future?

For now we don't have any plan regarding a physical version, but hey, who knows what the future has in store…

Aside from Fuga, we know that Tokyo Ogre Gate and Cecile were also previously announced as part of CyberConnect2's "Trilogy of Vengeance". What can you share about those two projects? Are they still in development?

The priority was on Fuga and our big titles so we couldn't communicate much on Tokyo Ogre Gate and Cecile, but don't worry, they are still in development and doing well!

This is something that CyberConnect2 has touched on from time to time, but since our readers have asked, has the company given any further thought to the possibility of re-releasing / remaking other games in the Little Tail Bronx series?

Actually a lot of people in the company (me included) would like to do a remake of Solatorobo, or even Tail Concerto, but it's all up to the original publisher, Bandai Namco Entertainment. This is just me, but maybe if the fans make Fuga a success and shout loud enough, they might get what they want some day… (but seriously, please do it, I really want to work on those remakes…).

Is there anything else you'd like to tell our readers about Fuga: Melodies of Steel?

I think that Fuga has many elements that makes it unique, and I would be happy if people could enjoy Fuga as a new kind of RPG. Also, please don't use Soul Cannon.
Fuga: Melodies of Steel launches for Switch on July 29.
Leave a Reply