[Interview] LEGO Builder's Journey director on the game's origins, Switch version, and more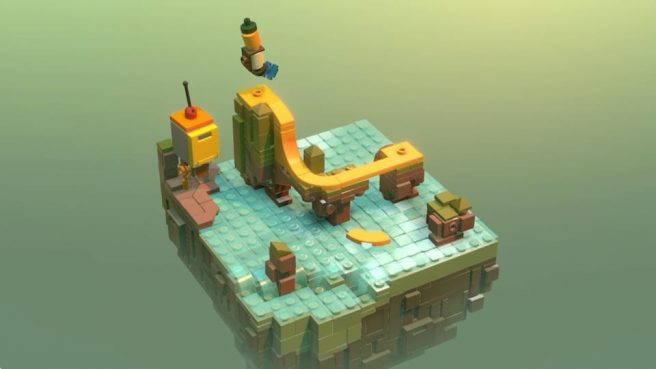 Just this past week, Light Brick Studio announced that LEGO Builder's Journey is heading to Switch. We were able to speak with director Karsten Lund to discuss the puzzle title in more detail. Lund discussed how the game to be, what to expect from the Switch version – in terms of features, content, and performance – and more.
Here's our full discussion:
Can you tell us a bit more about Light Brick Studio and how the team came to be?

Light Brick started as an internal experiment in LEGO Games, with a mission to explore the core LEGO play premise and see if that could be turned into a game that encapsulates the experience of playing with bricks. We handpicked the most talented team possible for the creation of this experience. After the initial success and great reviews of LEGO Builder's Journey, we decided to spin out Light Brick as a separate studio, still very much in collaboration with LEGO games.

LEGO is usually known for its licensed titles when it comes to video games, so where did the idea of LEGO Builder's Journey come from? Was this something that naturally occurred or was there inspiration from titles like Monument Valley that became the driving force of how LEGO could fit within the puzzle genre?

We were inspired by the beautifully artistic and poetic uses of the medium seen in many indie titles, and the idea came very naturally when turning the LEGO brick building experience into a game. The LEGO brick is the star of the show here, so an original IP seemed like the right thing.

Puzzles have always been a big part of LEGO titles, so did ideas and concepts for the puzzles in Builder's Journey feel like second nature or did the approach have to be changed due to the restricted movement of the character in a set space compared to a typical LEGO game?

I think the natural difference here is that the puzzles in Builder's Journey are brick by brick building challenges, which means that the decisions the player has to make are more in terms of direction and placement of the individual bricks. In many levels there is a lot of freedom to solve the building whichever way you like, rather than a lock and key approach. Since we are a new studio, we had to invent the approach as we developed. Frequent user testing was very important for us to find the right balance of difficulty.

Atmosphere helps a lot with being able to focus in puzzle games, making even the most complex puzzles seem doable after intense brainstorming and problem-solving. What was the process like when deciding how you were going to build a serene environment around the puzzles players would be solving? Did the music and ambiance, for example, have to be constantly tweaked during development or was it the other way around where music actually helps inspire the design of a level instead?

I think the serenity comes from a collaboration of all crafts: It usually started with a design idea built in grey bricks. We test a lot in Light Brick, so we are quickly in tune with what the users experience, and are able to adjust accordingly. The artists and musicians are involved fairly early and iterate alongside the designers, and then we go through a couple of loops of testing and readjustment to make it even more solid and coherent with the rest of the game flow. It is a very multi-discipline, iterative approach.

A lot of puzzle titles focus on gameplay only, but LEGO Builder's Journey actually incorporates a subtle narrative without using words. Was including that kind of story something that the team thought would make sense to include early on in development?

We knew from early on that we wanted the game to have a message, and we wanted it to be non verbally communicated. We went through many iterations before we came up with the narrative language for the experience. Most of the big emotional moments are played, so it was important that the balance and difficulty were just right to not take away attention from the delivery of the story.

We know that the game was originally called LEGO Arthouse. What led to the name change?

Arthouse was a working title that reflected the vibe of the experience early on. When the narrative and the emotional context of the game materialized itself, the title, "LEGO Builder's Journey" emerged to fit the theme of the game. It is not only a journey literally, but also about how we grow through life and create our own path.

There's been an interesting history of mobile games losing their touch capabilities entirely once they're brought to the Switch despite its ability to do so. Will LEGO Builder's Journey share a lot of the same touch capabilities, or will it feature button inputs only?

I am so glad you asked this question. Builder's Journey includes touch controls, along with the Joy-Con input you would expect. We believe that new platforms for the game should be treated as new game experiences and leverage the platforms in the best way possible.

Will LEGO Builder's Journey contain any additional content or features once it makes its way to Switch? Is any additional content planned post-launch?

We are upgrading the game on all platforms, so that it is now a grander experience with a longer story, more levels, and some fresh game mechanics.

Has the team settled on a final resolution and frame rate for the Switch version of LEGO Builder's Journey?

720p (1080p docked) 60fps. We worked hard to make the controls feel as smooth as possible especially with touch, and a solid frame rate is very important in that regard.

Is the LEGO Builder's Journey concept something Light Brick Studio would like to work with further, perhaps in the form of a sequel?

We are exploring new ideas at the moment, but Builder's Journey is very dear to our hearts, so maybe our brick friends need to go on another adventure in the future, who knows?
LEGO Builder's Journey launches for Switch on June 22. We have more information about the game here.
Leave a Reply