[Interview] Moon Studios on the process of bringing Ori and the Will of the Wisps on Switch; iam8bit talks collector's edition, reception, more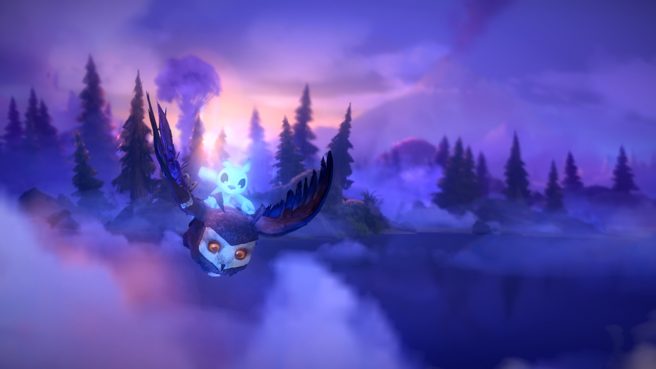 No one could have predicted a couple of years ago that both Ori games would end up on Switch, yet that's exactly what happened. Moon Studios managed to bring Ori and the Blind Forest over in September 2019. It was followed a year later by the sequel, Ori and the Will of the Wisps.
Moon Studios co-founder Gennadiy Korol and lead artist Daniel van Leeuwen recently spoke with Nintendo Everything about the challenging task of bringing Ori and the Will of the Wisps to Switch. We also got to speak with Jon M. Gibson and Amanda White from iam8bit – the game's publisher – who spoke discussed the special physical release, Switch sales and reception, and more.
Here's our full discussion:
Can you talk a bit about how Ori and the Will of the Wisps came to be on Switch? Was it always the plan to bring the game over after Ori and the Blind Forest?

Gennadiy: Just like Ori and the Blind Forest, we always felt that a 2D metroidvania is a perfect fit for the Switch! We secretly wished that Ori and the Will of the Wisps would make it but we honestly didn't know if that would be technically feasible, at 60fps without a huge quality loss until some time later during the actual development of the port.

How long did the Switch port take to complete? Were there any unexpected delays such as being affected by the coronavirus or any other development issues?

Gennadiy: I think all in all the Switch Port itself took around 3.5 months to complete and it was quite an intense effort on our teams part! The heavy duty optimization work that we had put in earlier for the Xbox platform patches definitely helped to get a head start on the Switch Port. That being said, when we started we were only hitting 24fps even with heavily compromised visuals which was quite a far-cry away from our goal!

As usual, game development is tough and being able to make a game like Will of the Wisps really shine on the Switch required taking quite a few risks and making heavy changes in order to be able to achieve the visual quality we felt Ori deserved on that platform. Luckily those risks really paid off and things really came together towards the end!

Ori and the Will of the Wisps runs at 60 frames per second on Switch, which is an impressive feat. What sort of work went into making that possible? We've also heard that the game wasn't running at 60 FPS initially, so how long did it take to reach that target?

Gennadiy: Thank you! We are extremely proud of what our team was able to do on the Nintendo Switch. A lot of us didn't even believe that a 60fps goal was even within reach, but we knew that Ori at 30fps would just never feel right. We knew we wanted that instant response and silky smooth animation and horizontal scrolling.

Honestly reaching 60fps was most of what we did during the entire duration of this port and it took many many iterations, content changes, rendering pipeline rewrites, streaming fixes, memory optimization and hard core engine optimizations to be able to consistently hit 60.

When you're targeting 60fps on a Switch it's a bit of a "all or nothing" situation when it comes to optimization. You absolutely have to make sure every single aspect of the engine between simulation, streaming, rendering and the graphics hit that 16ms frame target. If you can't, the game will never hit 60.

This was the hardest thing we've done at Moon and we're very happy to see the response from the players. It's extremely rewarding to see how it all came together and how appreciative everyone has been having seen how Will of the Wisps runs on this platform!

Can you share any information about the actual porting process? How did the team ultimately go about bringing the title over to Switch?

Daniel: First of all we set ourselves a goal – we were very clear from the start we didn't want to sacrifice anything noticeable that would downgrade the experience and 60fps was an absolute must.

So then the question became if that would be possible at all. The first time we got Ori running on the Switch the FPS was very low, so we had to get our hands dirty and try to see if there would be some way to make this run in the end, projecting forward is pretty tricky but the tech team got convinced we would be able to make it a few weeks in.

We developed tools that allowed us to keep track of any relevant state, anywhere in the game, multiple times a day. This was essential for seeing the trajectory we were making over time, any change that was made got reflected in these tracking tools to see if it was helping or not. A lot of variables were tracked constantly so we could get a detailed read out to see what elements were causing bad performance and focus on those.

At some point the art team also stepped in and helped out to clean up and simplify a lot of the scenes in the game, we made sure we did this without really having any major visual difference and got help from tools that would scan a scene and delete invisible or barely contributing assets for us.

The rendering pipeline was completely rewritten with the Switch hardware in mind, we even developed rendering techniques for characters that made them look even sharper than what we'd have before.

Given how different Switch is compared to the Xbox One from a hardware perspective, what changes were made to make the Switch version possible?

Gennadiy: The goal of this port was to create a seamless conversion. We didn't want to compromise anything in terms of the perception of quality that the players would have after playing on the Xbox so all visual effects, art and animation are present on the Switch with the only exception of the motion blur effect.

Even the base Xbox One is substantially more powerful than the Switch so we really had to re-envision how the game was made, pull it apart and put it back together in a new modified way to achieve both the visual quality and the performance on this platform.

With two games under the team's belt, how does Moon Studios feel about the Switch hardware?

Daniel: The Nintendo Switch is a great and enjoyable platform and I think most people at Moon prefer to play Ori on the Switch. Many people at Moon are proud that both Ori games ended up on the Switch.

Developing for the limited hardware is a great but also fulfilling challenge. You really have to understand the hardware thoroughly and shine a light on every little detail to make it all work. After shipping 2 titles on the platform we have gained a lot of experience that will come in handy in the future.

You're coming out with a very neat collector's edition for the Ori games with iam8bit. How did that collaboration happen?

Gennadiy: We collaborated with iam8bit when we started the port for Will of the Wisps to have them help publish this version of Ori.

We love those guys. They are really on the same page with us when it comes to making quality stuff and going out there and doing those little cool things that gamers will really appreciate. Working with those guys on our CE was a blast, a lot of back and forth but we really wanted to make something that we ourselves would want to have on our shelves!

iam8bit really came through and made sure that our vision would translate into a physical version without compromise and we can't wait for all of you to get your hands on this. We might even have a few small surprises coming later down the road 🙂

Do you feel like there's still room for Ori to grow, including another entry in the series?

Daniel: There are still many possibilities within the Ori universe. Right now after developing these games for almost 10 years the studio needs a bit of a break. We've poured a lot of the ideas we had for Ori into Will of the Wisps, it's good to let it rest for a while now. At some point the creative juices might start flowing again, you never know.
Leave a Reply