[Interview] Shin'en on The Touryst – how it came to be, gameplay, visual style, Switch, and more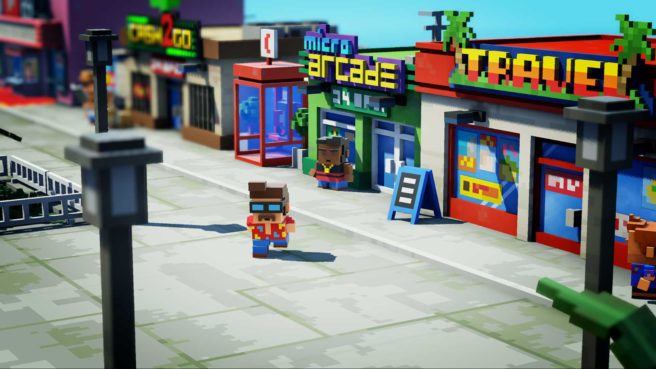 Nearly three years after FAST RMX launched with Switch, Shin'en is back with its next original project. Revealed during the Indie World Showcase in August, The Touryst releases on November 21.
Rather than racing we've seen with the FAST series or something like platforming akin to the Jett Rocket franchise, Shin'en is taking a different approach with its latest game. The Touryst is a true adventure experience with plenty of areas to explore, an original story, and more.
We recently spoke with Manfred Linzner from Shin'en to learn more about The Touryst and what fans can expect. Read our full interview below for more on the project's origins, its gameplay and visual style, developing for Switch, and more.
The Touryst is a major shift from Shin'en's work on the FAST Racing series. What inspired this new direction?

We wanted to create a unique adventure game for a long time but had no setting that felt truly new and unique. Then we had the idea of 'a vacation that goes strange'. That moment The Touryst was born. From that initial idea it often felt like the title would develop itself because so many things fell into place so easily.

The gameplay and graphical style perfectly matched each other and so we felt quite unbounded. No idea was too big to build.

When did the studio start developing of the project? How long has it been in the works?

We started with the game some time before we developed FAST RMX. All in all its about three years.

Can you describe the general gameplay flow? How much time is spent in just enjoying vacation activities, and how much is dungeon exploration?

That's up to the player. We had a lot of playtests and the experience was very different for each person. Some try to play all the activities, some love the dungeons. Others try to find out all the hidden secrets. Some people just get stuck for hours in the arcade… its YOUR vacation!

The Touryst has already drawn comparisons to cult classics like StarTropics. Do you agree with these comparisons? How is the Touryst similar or different?

When we first read about that we were like "What is StarTropics?". We never heard about the game before. So we think The Touryst will be very different.

Is there any significance behind the "Y" in "Touryst"?

Yes, I would even say it's one of the biggest secrets in the game.

So far the game looks like a curious mix of retro, sci-fi and fantasy aesthetics. What can you tell us about how these elements come together in The Touryst?

At the start of the game, everything is very grounded, but soon you discover that there is more then meets the eye. Those two worlds, the tourist world and this other world are opposed at the start of the game, but the more you find out the more similarities will arise.

The game's plot seems rather mysterious. What can fans expect from the story?

There are multiple layers of story in the game, and its up to the player to reveal them. Some answers are easy and some not so obvious. We made a lot of visual story telling, instead of making too many words. It's a game you want to play and not a book to read. 🙂

How did Shin'en go about differentiating the game's look and feel to other blocky, voxel based games on the market?

We don't consider it a blocky or voxel game. We wanted to have the charm of old console games, which had great pixel art. We tried to bring that into 3D. The resolution of our 3D world is roughly like a SNES or NES game that is expanded into the third dimension. This makes the look so familiar yet fresh.

The trailer description has mentioned a lot of choice and lifestyle elements to the game. What can you tell us about those?

The game is not linear. You have a lot of freedom how and how far to explore the world. The game should feel like a holiday, and you decide what to do next.

Speaking of the trailer, the video gave a first look at an arcade and a retro-styled version of FAST. What can you say about the arcade? Will there be other mini-games as well?

The arcade is really fun. I saw people playing there for hours when testing. All arcade cabinets even have their own high score tables, and perhaps it will be beneficial to break all those records… Besides the arcade there are quite a lot of other activities in The Touryst…

Shin'en titles have long been known for pulling off impressive visuals on Nintendo consoles. Can you explain your approach to creating these graphics on Nintendo hardware?

We first set our goal, and this is to have a rock-solid 60fps performance. From that initial vision all effects and graphics are fine-tuned to make that possible.

We develop all our games with our in-house engine. So we have the luxury of total freedom to explore every performance improvement we could think off. And on Nintendo Switch there is quite a lot of potential if you specialize your code for it.

Have you been able to do anything more with the Switch hardware this time around that wasn't possible or considered when making FAST RMX? Did you learn any new tricks or techniques?

We now have even more code running multi-threaded than with FAST RMX. This was necessary because The Touryst does much more physics calculations. We also added new GPU features to make the unique visuals of The Touryst possible while maintaining a high frame rate.

What lies ahead for the future of Shin'en? Would you be interested in creating a sequel to The Touryst, or revisiting a previous IP like FAST?

Whatever will come next, it will be unexpected, just like The Touryst.
Leave a Reply