Kimishima on using Nintendo IP, new Mario animated film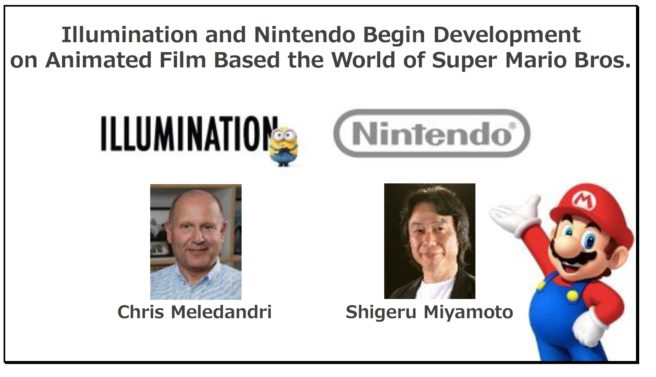 This information comes from Nintendo president Tatsumi Kimishima…
As part of utilizing Nintendo IP, we hope to increase visibility of Nintendo characters in the daily lives of our consumers and boost familiarity with the worlds in games made by Nintendo as entertainment. By combining the effects of many such initiatives, we aim to create an engine of competitiveness in the dedicated video game platform business and all of our other businesses.

I will introduce several examples from 2017. The winners of the UTGP T-shirt design competition held in cooperation with Uniqlo were announced, and their designs were sold in Uniqlo stores worldwide.

Kellogg released a breakfast cereal in the US that features Mario on the box. The box contains a new initiative, an amiibo tag with an NFC chip.

Last year we also piloted the release of the main theme songs from game software on music distribution services, ahead of the release of the game software itself.

In addition to these examples, we are engaging in other initiatives to boost opportunities for consumers to interact with Nintendo characters by increasing the number and variety of regional and worldwide collaborations with partner companies. In this way, we will continue seeking to raise the value of Nintendo IP and maximize the potential of our
overall business strategies.

Lastly, we will now introduce a new initiative to effectively use Nintendo IP. We have started development of an animated movie featuring "Super Mario" with Illumination, the movie studio that brought films such as "Despicable Me" and "Minions." For this project Mr. Chris Meledandri, Founder and CEO of Illumination and Shigeru Miyamoto, Representative Director, Fellow of Nintendo will co-producing the film. The film will be co-financed by Universa Pictures and Nintendo, and distributed theatrically worldwide by Universal Pictures.

Further announcements on details such as release dates will be made at a later date. We look forward to providing further information about the release timing for this movie that we hope everyone will enjoy.

As a part of our effort to expand Nintendo IP beyond video games, we look forward to bringing smiles to people around the world through this movie.
Leave a Reply