Kimishima shares Miitomo stats, regular updates and expansion to other countries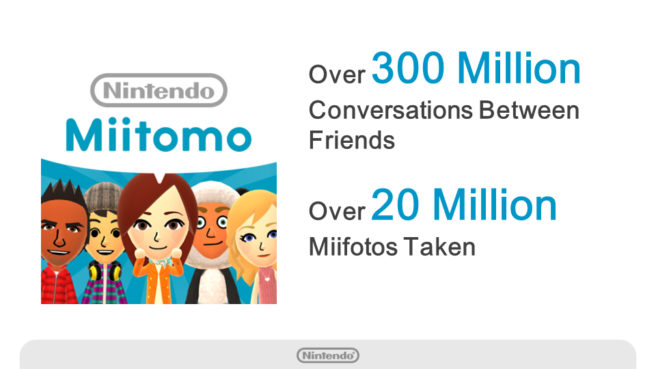 This information comes from Nintendo's investors briefing as stated by president Tatsumi Kimishima…
To kick off this new business, Nintendo recently released our first application for smart devices, Miitomo.

In Miitomo, the user creates a character likeness called a Mii that sparks conversations with the user's friends on a wide range of topics, letting you discover things you never knew about your close friends. This is a unique application focused on communication.

Service began first in Japan on March 17th, and expanded to 15 more countries worldwide, including the U.S., on March 31st. We currently offer service in 16 countries and 8 languages.

I have heard that it is unprecedented for a company making its first foray into the smart device business to support so many countries and languages at such an early stage.

As a result of our global efforts, consumers worldwide are enjoying Miitomo. We have already passed 10 million unique users at present.

On top of the number of the unique users, the number of conversations exchanged within Miitomo has exceeded 300 million. In addition, the "Miifoto" functionality allows users to create unique pictures with their Mii, and users have already created more than 20 million of these pictures.

* The number of Miifotos excludes those taken automatically by the application and counts only Miifotos that the users have created themselves.

Miitomo aims for further expansion in the future, with plans for regular updates and extension of service to additional countries. We are considering possibilities for launching service in South America and Asia.

Through this support, we expect Miitomo to play an even bigger role on the global stage as the forerunner of Nintendo's new business activities.
Leave a Reply