Kingdom Two Crowns: Challenge Islands update announced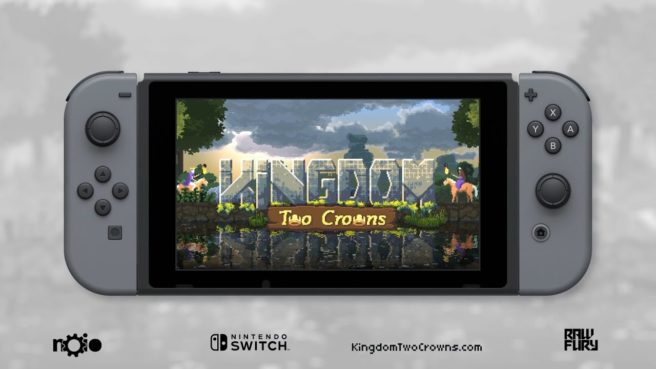 A new, major update is on the way for Kingdom Two Crowns. Challenge Islands will introduce "an alternative experience to the campaign with tougher roguelike gameplay and each with its own custom rules."
Below are the full details:
Kingdom Two Crowns: Challenge Islands represents the greatest challenge ever seen for hardened veteran monarchs. Can you survive long enough to claim the Gold Crown?

Kingdom Two Crowns: Challenge Islands is a free update coming on August 29th! These themed islands offer an alternative experience to the campaign with tougher roguelike gameplay and each with its own custom rules. Drawing inspiration from Kingdom: Classic and Kingdom: New Lands, each challenge takes place on a unique land with a single attempt to conquer it. If you lose your crown, you lose the game.

Each Challenge Island has associated goals to overcome and rewards you with a Bronze, Silver, or Gold Crown when you reach their milestones. The acclaimed Gold Crown is very difficult to obtain, you'll have to be a very strategic monarch with plenty of experience to survive long enough to even be within reach. These are truly formidable challenges for the most experienced of monarchs!

There are three different Challenge Islands to begin with, each tailored for the lonesome monarch as there's no co-op to help lighten the burden of the difficult challenges ahead. We plan to add additional Challenge Islands further down the road.

Dire Island

With the new Dire Wolf mount as your aid, protect its pup at all costs. No crown, no monarch. No pup, no monarch! Now build the boat and try to escape as you run to as many islands as possible before the inevitable.

Skull Island

Time is running out and you must destroy the Greed Lairs, that's right "Lairs", PLURAL! With a Greed Lair on each side and several Greed Portals in between this challenge is fit for only the gods that walk amongst Monarchs. And don't forget about the volcano that is waiting to explode!

Plague Island

This land has been overrun and on the brink of succumbing to the Greed… FOREVER! And now a fearsome pandemic is transforming citizens into Greed. The only thing you can do is try to survive as long as possible until your Kingdom is nothing but Greed.
Challenge of Islands will include some balance/quality of life updates as well as bug fixes. Here are the patch notes:
Balance/Quality of Life:

On controllers, shoulder buttons now perform coin action which makes the game possible to play with one hand
Dog AI Changes that will make the dog stick closer to the player, introduce a couple of new behaviors to help the player and improvements to make the dogs purpose clearer to the player.
Improved color options for Blazon Editor

Bug Fixes:

Catapults should now behave better in general
No more archers running in the air upon return to an island.
Ghost tutorial is now less intrusive/forcing and other general fixes and improvements
Fixed issue where grass didn't properly grew back after winter
Fixed issue where the scope sometimes stays on screen forever if user invokes split-screen while scope is active
Fixed issue where the Hermits sometimes lost the ability to walk after building an upgrade
Fixed texture color on Griffin eating bits
Fixed issue where Player was unable to change appearance of ruler after losing crown
Raw Fury has indicated that this patch will be out on all platforms, including Switch, on August 29. We'll let you know if we hear otherwise.
Thanks to Brent for the tip.
Leave a Reply