Kirby Wii remaster new features, Mario + Rabbids sales underwhelm, and more | Nintendo Everything Refresh Ep. 039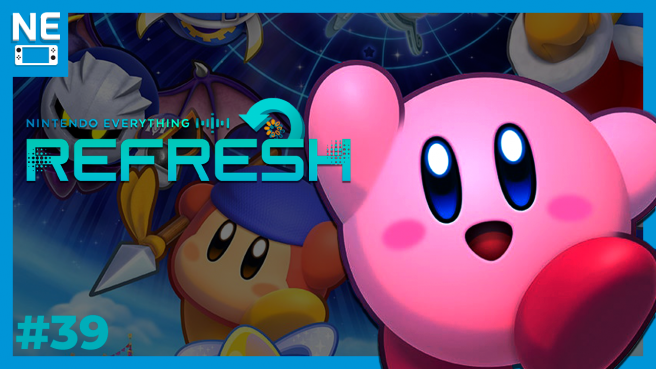 Everyone's talking about Fire Emblem right now, but don't forget that another Nintendo IP is getting a new game soon! In this week's episode, join your hosts Nick, Nicolas and Luiz as they discuss Kirby's Return to Dreamland Deluxe and some of the new features being added to this unusual remaster. They'll also discuss the low (by Ubisoft's standards) sales of Mario + Rabbids: Sparks of Hope, upcoming updates for Bayonetta 3 and Pokemon Scarlet & Violet, and much more!
Our podcast is available on most major streaming platforms, including Spotify, Apple Podcasts, Google Podcasts, Amazon Music and Audible, or you can check out the video version on YouTube.
Direct downloads are also available for free through our friends at ListenNotes. Have ideas or suggestions for the show, or want to submit a fan question or topic for a future episode? Let us know what you think – and thanks for listening!
➡ Inquiries/Fan Mail: [email protected]
➡ Visit the site: https://nintendoeverything.com
Episode Segments:
(00:00) | Intro
(02:17) | Kirby's Return to Dreamland Deluxe new details
(15:57) | Sakurai talks about Kirby Air Ride
(20:42) | Mario + Rabbids and Ubisoft's sales expectations
(32:27) | Cool new GameCube-inspired Switch controller
(41:02) | Rhythm Sprout: Sick Beats and Bad Sweets
(43:04) | Wii U game Gunscape returns on Switch
(47:04) | New update for Bayonetta 3
(51:18) | Upcoming update for Scarlet/Violet
(53:02) | Recent releases
(01:00:47) | What we've been playing
Hosts:
Nick Serpa: @ndserpa
Dennis Gagliardotto: @LyonHart_
Luiz Estrella: @Luizestrella_
Nicolas Shadday: @Dayshade1999
Leave a Reply