Kirby's Dream Buffet gameplay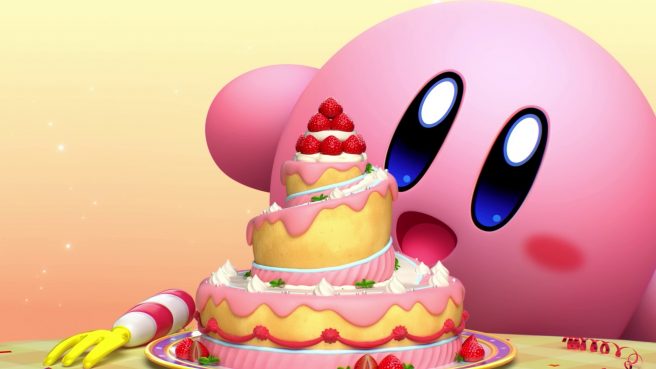 With just a few days to go until launch, a bit of gameplay has emerged from Kirby's Dream Buffet. Various clips have been posted on the official Japanese website, which we've rounded up into a single video.
You can find additional information about Kirby's Dream Buffet in the following overview:
A jam-packed race!

Snack your way to victory as you roll through yummy food-themed levels in Kirby's Dream Buffet for Nintendo Switch!

A Gourmet Grand Prix

Feast your senses on this full, four-course competition! Up to four hungry Kirbys must race, compete in minigames and battle it out across creamy, crunchy courses overflowing with chocolate, ice cream and other delicious delights.

First, a race to claim a mountain of strawberries! The rules are simple: roll down the track and eat as many strawberries as you can. The more you gobble up, the more you'll grow and the faster you'll roll.

Avoid flavor some foes in your path or zip past them using tasty Copy Food abilities to keep up your Kirby's momentum!

Next on the menu is a snack-sized minigame. Jump and bump into ravenous rivals while chomping down on the sweet strawberries falling in the arena.

Hungry for more? Turn the tables on your opponents in another race before the next sugary stage.

Then, prepare for the Battle Royale! Give your opponents their just desserts in this timed, tasty challenge. Knock them off the stage and scoff their strawberries while protecting your own stash! Don't worry – if you fall off, just float back for another fighting chance.

Finally, it's time for a weigh in. The most well-rounded and heaviest Kirby wins!

You are what you eat…literally!

Scattered across race tracks and Battle Royale stages, you'll find Food Boxes containing scrumptious Copy Foods. These appetising abilities can transform Kirby into a Stone Chocolate that can knock enemies away, a Burning Pepper that blasts through obstacles with fiery speed and much more! Take a look:
Preview Image

A feast for friends

Meals are always better with friends! Invite them for a round of Kirby's Dream Buffet locally or online.

Play 1 vs. 1 on the same console, test your snacking skills against three other players in the same room with local wireless multiplayer or challenge far-away friends online by using a shared password.

Hungry for more competition? Take on players from around the globe in online multiplayer.

Yummy outfits and tasty treats

Who wants an extra helping? Wolfing down strawberries will increase your Gourmet Rank, opening you up to a world of tasty extras! Unlock new colours for Kirby and a variety of berry fun costumes, some of which will remind you of familiar faces.

As you play, you will also unlock biscuits with designs from the Kirby series that you can use to decorate your cake.
Get a look at the new Kirby's Dream Buffet gameplay below.
Kirby's Dream Buffet launches digitally for Switch on August 17, 2022.
Leave a Reply