Kosuke Yabuki on ARMS, regular content updates, Mario Kart's blue shell and more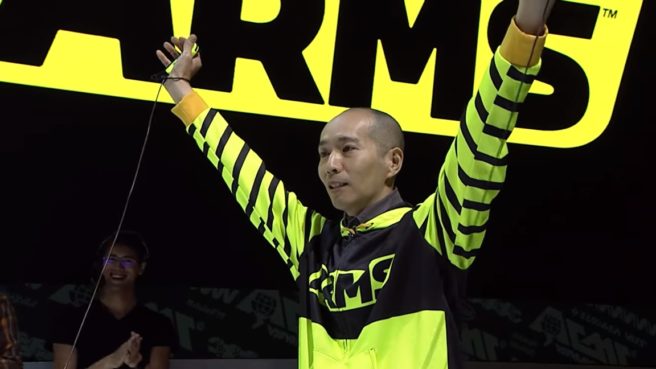 Eurogamer recently had the chance to interview Kosuke Yabuki, the producer of ARMS. He answered questions on a variety of topics, from ARMS to Mario Kart and more. Make sure to check out the full interview here; we've rounded up some of the most interesting tidbits below:
On providing regular content and balance updates for games:
It is new for us, really – I kind of feel like it's necessary, and it's not so much that we've changed the way we do things, it's that we've entered a different era. I worked on Mario Kart 8 Deluxe as well as Arms – those regular updates and balance adjustments, it feels like something we have to keep doing. Something that's a big consideration for us is that, in addition to supporting existing games with regular updates, we have to make new games. Working out the balance about how we do both of those things is a big consideration.
On how ARMS' unique camera perspective came to be:
I can't imagine making a standard side-on fighting game – it's something that other companies already do really well, so just to kind of repeat that, I can't really imagine us trying something like that. Something that we as development staff at Nintendo are always being told, and a point that's hammered home by Mr. Miyamoto and senior staff, is 'are you making something new? Are you making something different? Are you making something unique, that hasn't been seen before?' That consideration is something we're always thinking about. That consideration about newness cuts across all genres. In Arms' specific case it was fighting games – so really it's difficult to think exactly why we did it. It was just a conversation – a fighting game from a different perspective, how would it work? It was a light-hearted conversation, but it was something we ended up running with.
On the blue shell in Mario Kart and whether he's ever considered getting rid of it:
We're always experimenting with what new elements to introduce or what elements can be removed. We have tried – or we are trying – to see what the game's like without the blue shell. When we've experimented without the blue shell, actually it feels like something's missing. Like there's something not quite enough in the game. So for now we've kept it in. You know, sometimes life isn't fair. Sometimes in life you have something where you feel that's not right, and that's frustrating.
On what's next for Mario Kart:
Kosuke Yabuki: So firstly, yeah – there really is a lot of content in Mario Kart 8, and Mario Kart 8 Deluxe. And if you're enjoying that and are satisfied, I'm happy to hear that. Definitely there's no thought at all that the Mario Kart series might end! We have lots of things already that we've come up with that haven't been used in games before. We're already of course thinking about preparations for future Mario Kart games. That's not saying that there's going to be a new Mario Kart game on the Switch! But in general the research and development process for new Mario Kart content, that's something we're always doing. Sometimes that's driven by new hardware and new technology ideas as well. The two are linked.

To go back to what I was saying earlier, with Mr. Miyamoto, Mr. Konno, they're always saying that when we're creating new games think about what new elements you can introduce, think about how you can make things fresh and exciting. And even if the new elements might at first not be liked by existing fans, or existing fans might not get it – the important thing is to keep trying new things. I'm flattered that you say with Mario Kart 8 Deluxe we've perfected Mario Kart – but there's definitely room for the series to continue with a new Mario Kart, and a new Mario Kart will appear in the future. Of course, when a new Mario Kart comes out, it doesn't mean the others disappear. I'd love fans to love all of them. 8 will still exist, 7 will still exist – if fans love every entry in the series in their own right, that's the ideal situation for us.
Leave a Reply