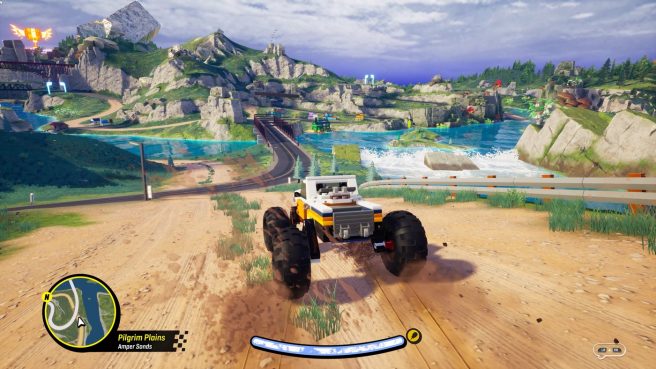 2K, Visual Concepts, and the LEGO Group have announced LEGO 2K Drive, a "AAA driving adventure game". It will be available for Switch on May 19, 2023.
LEGO 2K Drive will feature an open world with single and multiplayer support plus the ability to create vehicles. There'll be different biomes, races, minigames, challenges, collectibles, things to destroy, and a story. The customization system has over 1,000 unique LEGO pieces, but there'll be standard cars to use from LEGO City, Creator, Speed Champions, and even the McLaren Solus GT, and F1 LM. Co-op will be supported, in addition to competitive multiplayer with up to six players – not to mention two-player split-screen.
Here are a few screenshots:
LEGO 2K Drive will have a standard release for $59.99 as well as an Awesome Edition for $99.99 and The Awesome Rivals Edition for $119.99. The Awesome Edition includes a new vehicle, vehicle flair, in-game minifigure, and the Year 1 Drive Pass. With the Awesome Rivals Edition, you'll get multiple vehicles, a vehicle flair, multiple in-game minifigures, and the Year 1 Drive Pass.
The LEGO 2K Drive Year 1 Drive Pass has been described like a season pass. This offers an all-new biome plus four individual post-launch seasons of Drive Pass content, each with new vehicles and themes. Players can also opt to purchase the Year 1 Drive Pass separately.
Finally, those who pre-order the standard version will receive the Aquadirt Racer Pack, which includes the Aquadirt Racer Street Car, Off-Road Car, and Racer Boat. This is automatically included in the Awesome and Awesome Rivals Editions.
Leave a Reply