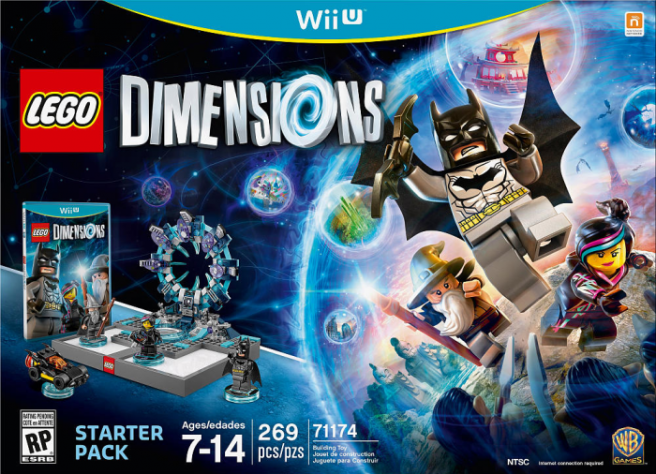 Update: We've added a bunch of posts to the site throughout the day. Here's a roundup:
Announcement video
Out on September 27, more details
Pre-orders
Various images
---
Warner Bros.' new toys-to-life game is official. A leak spotted on Reddit reveals that LEGO Dimensions is heading to Wii U.
LEGO Dimensions allows players to scan characters into the game. Batman, Gandalf, and Wyldstyle are included in Dimensions' Starter Pack, which includes a copy of the title, LEGO Toy Pad, LEGO Gateway building bricks, the 3 LEGO minifigures, and LEGO Batmobile vehicle.
Here's LEGO Dimensions' description:
When a mysterious and powerful vortex suddenly appears in various LEGO worlds, different characters from DC Comics, Lord of the Rings and the LEGO Movie are swept away. To save their friends, Batman, Gandalf and Wyldstyle bravely jump into the vortex to rescue their friends and fight to save all of LEGO humanity.

Let your creativity be your guide as you build the LEGO Gateway to adventure, journeying through unexpected worlds and teaming-up with unlikely allies on the quest to defeat the evil Lord Vortech. Play with characters you never thought you could see in a LEGO game together, using vehicles and weapons you never thought possible. LEGO Bad Cop driving the DeLorean Time Machine – why not?! The Ninjago Masters of Spinjitsu fighting alongside Wonder Woman…yes, please! Get ready to break the rules, because the only rule with LEGO Dimensions is that there are no rules.

The LEGO Dimensions Starter Pack is all you need to begin – build your base and embark on a fantastic quest.
Expect to hear more about LEGO Dimensions later today.
Leave a Reply