[Let's Talk] April 2017 Nintendo Direct reactions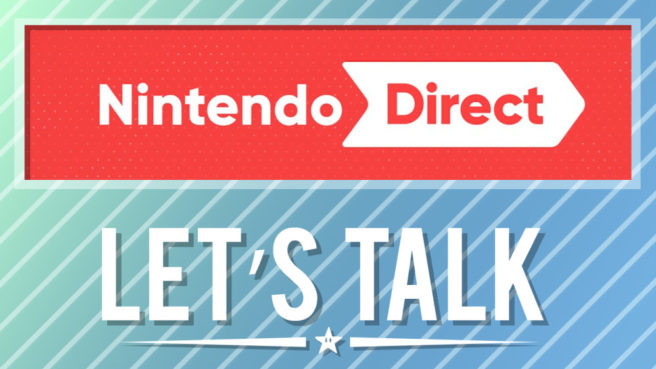 The latest Nintendo Direct aired this past week. Nintendo originally announced it as a broadcast focusing on Arms and Splatoon 2, but in the end, there was quite a bit more than that.
Nintendo started out with 3DS. We were given a new name for Pikmin (Hey! Pikmin) and a release date, a date for Ever Oasis, news about Monster Hunter Stories, Yo-kai Watch 2: Psychic Specters and Miitopia all coming west, followed by three Kirby 3DS titles. Bye-Bye BoxBoy! also launched in North America after the presentation.
Some news about amiibo was also shared. The three rumored Zelda amiibo were confirmed. Nintendo is bringing out the final Smash Bros. amiibo this summer, along with alternate versions for each. Hey! Pikmin and Splatoon 2 are also getting amiibo.
Speaking of Splatoon 2, it was dated for July 21 and the new Salmon Run mode was revealed. Arms, Nintendo's other big Switch game for the summer, is planned for June 16. The new character Min Min was introduced plus a 2-v-2 option. Third-party highlights include Minecraft: Nintendo Switch Edition on May 11, plus Namco Museum, Fate/Extella, Monopoly, Sine Mora EX, Battle Chasers: Nightwar, and Payday 2.
The Nintendo Direct also snuck in some hardware news. New Neon Yellow Joy-Con are launching with Arms in addition to a Battery Pack accessory. Finally, the standalone Switch dock is set for May 19.
For a Nintendo Direct that's just two months off from E3, I personally thought it wasn't too shabby. A personal highlight for myself is Monster Hunter Stories, which I was praying would be made available in North America and Europe. But what about you guys? Were you impressed or disappointed? What was your favorite announcement? Let us know in the comments below.
Highlights from last week's topic: Future feature additions on Switch
Exy
I just tried to split the audio on the Switch docked using a 3.5mm splitter to my Elgato's audio input and my headset so I can stream gameplay without the going to my TV's speakers so my microphone won't pick it up, but doing this causes a ground loop that makes the audio unusable. I could fix this with a ground loop isolator, or a feature could be added to not disable the HDMI audio output when headphones are plugged in, so the audio would go to both the headphone output and HDMI. With this, I would be able to have the audio in the headphones and mute my TV so the Elgato will still get sound. It sounds like a niche feature, but people like me who use a specific streaming setup would benefit from this.
Aside from that, I would also like USB storage support to transfer not just save data, but screenshots. The only way to get them onto a PC is to power down the Switch to remove its microSD card. I would like not only for USB storage on the dock, but in the handheld mode with USB-C drives. I don't know if this would be asking for too much, but uncompressed screenshots would be real good to have too.
For all the people point out as odd omissions, the one thing I noticed that not many others did is that there's no charging light, so there's no reliable way to know if the system is charging except when the system turns back on. That Home button light isn't being used right now, so that would be the only thing that would work. And we really don't need the screen to go on when the power is disconnected.
And it's been a month now, and even I have to admit that video streaming and web browsing would be neat to have on the Switch tablet. My phone can tether and there's at least one report saying that Splatoon 2 plays fine on a tethered 4G connection.
Eric Flapjack Ashley
I definitely think there needs to be an improved user communication interface. I don't know if they are saving all of that for the upcoming smartphone app, but as it stands now, there is no way to communicate with other friends who are online – nor even a way to send a brief introduction message along with a friend request.
OverKing53
Sorting the icons would also be nice. I mean sorting the icons on your own.
This sorting by date (last time played) is just not my cup of tea.
Vigilante_blade
Necessary:
– Save management and backup: I admit, since this console is portable, I am legitimately terrified of losing my progress in games if anything happens to my Switch. I also don't want to save anything or buy anything on my Switch memory since it means that I am possibly wasting space on it. Give us more controls, and I will be very happy.
– Enhanced virtual console: I felt like the emulation in the NES classic was actually a good step in the right direction. I think it would be great to have games from multiple platforms make it over with save state functions as well as multiple filters and aspect ratios. Cross buy and cross gen are necessary at this point, especially if they start charging for online. Furthermore, you should own the games, not lose them if you don't pay your subscription. The only reason I don't buy VC games is because I know they will not transfer over to the new systems. If I can keep an enduring library, then I will gladly buy a bunch of games.
– Voice chat without the mobile app.
Quality of life:
– An ability to temporarily disable the automatic controller detection. I carry a pro controller in my bag, and even though it is in a box, it does sometimes interrupt my gameplay while on the train.
– Bluetooth headphones detection: I know it takes battery, but I want to use wireless headphones. I already carry a large battery with me, and I can handle the drain. While I understand making the console stupid-proof, a simple warning about battery drain would be enough. There is no need to not have that option.
– Complete control over button layouts. Allow users to do such things as remapping their buttons, inverting their sticks, turning motion controls on or off from the system itself. In other words, create a setup tied to your profile and allow you to do these things whether the creator wanted you to do it or not.
– Mod support. Many mods are amazing, and I think that providing a controlled environment for modding (as to prevent piracy) would do much to add to already great
games.
– Themes: Don't charge for them and allow users to make them and share them.
– A grid menu setup. Being able to see more icons on one page.
– Ability to lower your resolution in docked mode for improved performance.
Leave a Reply