[Let's Talk] E3 2018 reactions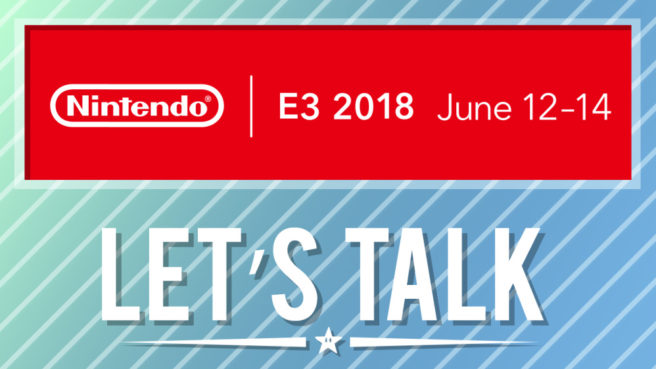 Just like that, another E3 is in the books. After a week of jam-packed news, trailers, and more, the expo has drawn to a close.
There was plenty to look at throughout the week, but the main event for us was on Tuesday with the Nintendo Direct. Smash Bros. Ultimate had its expected blowout, but a few other games were shown as well. Daemon X Machina and Super Mario Party were announced, Fire Emblem: Three Houses was unveiled, the new Xenoblade Chronicles 2 story content was shown, and a few leaked games were confirmed – Fortnite, Dragon Ball FighterZ, and Overcooked 2. There were a few other goodies spread out throughout the week including the release of the latest Xenoblade Chronicles 2 DLC and Splatoon 2: Octo Expansion, Arcade Archives Donkey Kong, and a meaty Octopath Traveler demo.
There were some notable omissions. Yoshi for Switch wasn't present, and has been pushed back to 2019. Metroid Prime 4 was also nowhere to be seen, though that might not be too surprising considering we only saw a logo last year. Nintendo also had nothing to say about 3DS at all – including during the Treehouse streams – so we'll have to wait a bit longer for new looks at WarioWare Gold, Luigi's Mansion, and Mario & Luigi: Bowser's Inside Story + Bowser Jr's Journey.
Since E3 has wrapped up, how is everyone feeling about Nintendo's presence? Were you pleased with what was shown, or were you left wanting more? What are your thoughts on Smash Bros. Ultimate and Ridley's inclusion? Let us know in the comments below.
Highlights from last week's topic: What are you playing? – June 2018
audiobrainiac
Street Fighter 30th was a dream come true for me, even if it is just a bunch of old games. I've been wasting time on that a lot. Smash holds excitement for me this year, but Yoshi hasn't revved me up since Yoshi's Island. Hoping for other first party good news since I'm not too good at Smash, though I enjoy it. Also No Man's Sky and Gran Turismo Sport when I can.
Kaydee Yewbirt
I don't have them yet since they come out at the end of the month, but I will be playing Psychedelica of the Ashen Hawk and Ys VIII later this month…and before E3 is over I'll play the demo of Shining Resonance Refrain that they've promised us.
Manuel Ruiz Segura
I'm hooked to BlazBlue Cross Tag Battle right now. That game is soooooo fun it's stealing away all my gaming time.
Meanwhile I have no new games, so I may replay Spirit of Justice since I only played it once when it first came out.
Lance Devon
Nine Parchments is 10 bucks right now and I need a console Diablo fix I can take on the go. That will satisfy.
Leave a Reply