[Let's Talk] E3 2020's cancellation and the expo's future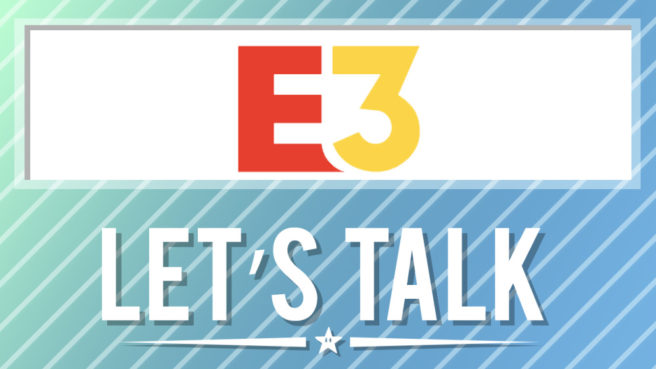 This was a big week for cancellations stemming from the coronavirus. Announcements were being made about the temporary closing of major events, sporting leagues, and venues. E3 2020 has also been impacted, as it's been cancelled outright.
Not having an E3 this year is a pretty big deal. Yes, the conferences will go on, as the likes of Ubisoft and Square Enix are probably going to shift from live in-person conferences to digital events. Nintendo will likely have its usual Nintendo Direct as well. But it's just not the same. Many gaming aficionados look to E3 as a Superbowl of sorts. It's not just about the announcements, as we also get to see tons of footage of new games, learn about those games through interviews, and hear about how they're shaping up in previews. Something else that isn't widely discussed is that E3 gives an opportunity for all types of industry members from around the world to interact and connect in one central space.
The ESA has already said E3 will return in 2021, but that isn't stopping the conversation about the expo's future. Some believe that companies will realize it isn't worthwhile to attend after trying out a digital broadcast. There's also a feeling by some that E3 just isn't necessary, and the ESA hasn't been the best at recovering from some of its past blunders.
We'll essentially have a full year to sit on E3 and its future. Given this week's immediate aftermath though, what are your thoughts? How did you feel upon hearing that E3 2020 had been cancelled? Do you think we need an event like E3, and do you even want to see it continue? Let us know what you think in the comments below.
Highlights from last week's topic: What are you playing? – March 2020
LittleLynn
Little by little, making my way through the Mega Man Zero/ZX Collection. I'm currently about halfway through Zero 3. Haven't replayed the Zero series in a long time, but I gotta say it holds up really well. And I've never played the ZX games so I'm looking forward to that after getting through all the Zeroes.
When I need something at a slower pace, I'm killing time with Pictoquest, a Picross game I got on sale recently.
And it's not Nintendo, but I'm eagerly awaiting FF7 Remake.
Lance Devon • 5 days ago
Picked up the old Baldur's Gate remasters on the Switch this morning. Figured to revisit them since the third will be coming soon.
It's no Dark Alliance, but they're my first few PC games I had back in the day. Them and Lords of Magic shaped my RPG tastes for years following.
Der Schlagzeuger
Monster Hunter Gen Ultimate
SNES Online
NES Online
Link's Awakening GBC
Fire Emblem: Sacred Stones
Reggie
I've been in a big Dragon Quest mood lately. I recently finished DQXIS and now I am playing DQ 8 on 3DS.
Leave a Reply