[Let's Talk] Nintendo at The Game Awards 2020 – hopes and dreams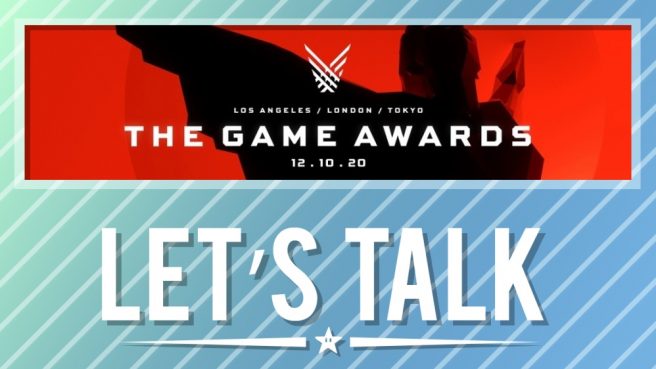 The Game Awards tend to be a bit different than the typical awards show. Rather than just focusing on the awards themselves, the event is also known for offering up a look at what's to come in the future. We get to see new looks at games, new trailers, and new announcements.
Nintendo does have an extensive history at The Game Awards. They were right there at the beginning in 2014 by having Shigeru Miyamoto and Eiji Aonuma demonstrate Zelda: Breath of the Wild with off-screen footage, and that's continued in later years. We've seen the announcements of Bayonetta 3 and Marvel Ultimate Alliance 3, Joker in Super Smash Bros. Ultimate, and more.
You can probably expect Nintendo to show up in one form or another at The Game Awards 2020. The big question, of course, is what the company will actually be presenting? Could we get a new look at Zelda: Breath of the Wild 2? Will Bayonetta 3 resurface? Perhaps something brand new will be announced. Share your predictions with us – or at least what you personally hope to see – in the comments below.
Highlights from last week's topic: Hyrule Warriors: Age of Calamity impressions
D-Omen
I just got done with chapter 2, combat, movesets and level design are much better than the original and I put hundreds of hours into that. I just wonder how much content there is.
Bammajamma Nondeplumeron
You really don't need to be a fan of the genre to enjoy this game, I bailed on the last Hyrule Warriors on 3ds, just couldn't bring myself to care but with the BotW aesthetic you really feel like you're playing BotW dlc or something and the action is fast and the levels very reasonable in size.
I recommend this game highly, it's a blast.
NeptuniasBeard
I think Age of Calamity has made great improvements to the combat over the original. The two things so far I'm not a fan of is that the maps seem too big and enemy density is lacking
AJK
Big improvement over the original hyrule warriors from a game mechanics point of view. The story is a bit naff so far, but fun.
Leave a Reply