[Let's Talk] Nintendo Direct Mini January 2018 reactions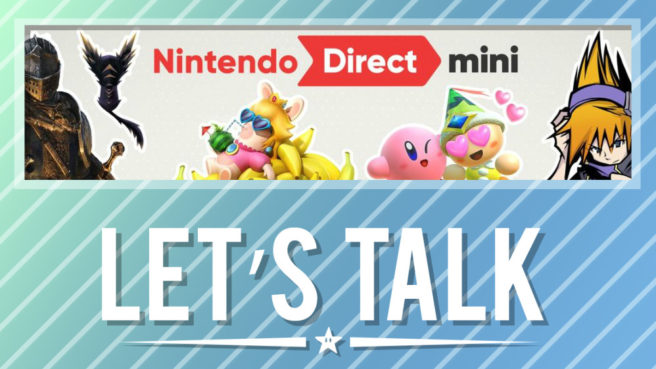 After a crazy week of anticipation and trolling relating to a possible Nintendo Direct, a presentation dropped out of thin air on Thursday. It wasn't as big as some past presentations – no surprise there given the addition of "mini" in the name – but there were still some surprises.
Switch received all of the love this time around. Highlights included Dark Souls: Remastered, Mario Tennis Aces, The World Ends with You: Final Remix, and SNK Heroines ~Tag Team Frenzy~. We also now know that Hyrule Warriors, Donkey Kong Country: Tropical Freeze, and Ys VIII are all coming to Switch. New updates and DLC were announced for Super Mario Odyssey, Mario + Rabbids Kingdom Battle, and Pokken Tournament DX were revealed as well. Finally, Kirby Star Allies, Fe, and Celeste were all dated.
What do you make of this week's Nintendo Direct Mini? Were you pleased or disappointed with anything shown (or something that was absent)? Do you have a favorite announcement? Let us know in the comments below.
Highlights from last week's topic: Hopes and expectations for the next Nintendo Direct
JasonBall
I hope for everything but expect nothing.
Lolo
For this direct, I would really like a solid date on Kirby Star allies. I was going to get battle royale to help pass the time, but it's dumb that the online mode is ranked only and there is no mode to play with friends online…so that killed it for me.
I would also like a new donkey Kong game. What happened to the Kong Family after the snowmads were defeated? Would love to see a new adventure to answer that question.
キロ
My hope is that whatever happens, it makes people happy!
James Fox
At the moment, I have none
All i want the upcoming Direct to do is surprise me
That's all
Leave a Reply