[Let's Talk] Nintendo Direct Mini: Partner Showcase – August 2020 reactions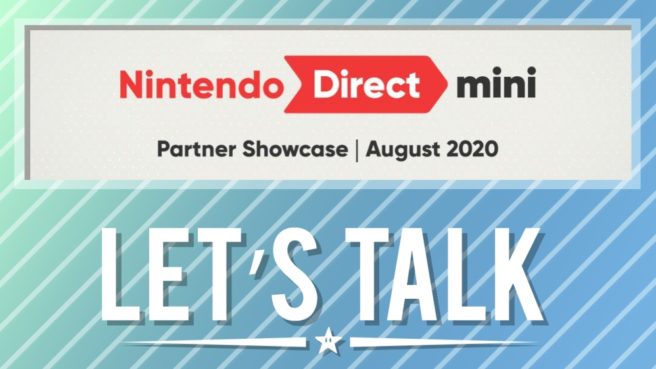 Another Nintendo Direct Mini: Partner Showcase is in the books. After the first presentation of its kind in July, it only took about a month for the next one. Also, as far as actual content and new announcements are concerned, there was noticeably more this time around.
Puyo Puyo Tetris 2, Collection of SaGa Final Fantasy Legend, Taiko no Tatsujin: Rhythmic Adventure Pack, World of Tanks Blitz, Rig Rumble Boxing: Creed Champions, and Just Dance 2021 were the new announcements. Other games were shown as well, including Kingdom Hearts: Melody of Memory, which received a November release date. In case you missed it, you can find the recap announcement here.
We're a few days removed from the Nintendo Direct Mini: Partner Showcase, and now we want to hear from you. What were your overall thoughts of the show, and how do you feel it compared to the last one? Which of the featured games are you looking forward to? Let us know in the comments below.
Highlights from last week's topic: Your Indie World Showcase highlights
Mark
Plenty! It's really exciting to be getting Torchlight III; I've played some of II and loved it. Spiritfarer seems interesting and is highly rated, though I've kind of got a good deal of similar games at the moment. Manifold Garden is one of those games I was hoping would come to the Switch, and then of course there's The Red Lantern.
TBH, I've got high hopes and low expectations with The Red Lantern. The trailer at the first Indie showcase was stunning, and certain aspects – the ability to look at the world in 360 from Switch handheld, for instance – looked exciting. The narrative, music, and *soul* seemed amazing. But then there was the demo this spring, and… it was repetitive, badly paced, and it didn't seem like your decisions made much difference.
I know that a demo is not the same as a finished product, but it was concerning. The dogsledding needed to be front and center, and take up MOST of the game, with stops for survival and interaction. Think, The Flame and The Flood, only with an beautiful, interesting, vibrant, dangerous world. Instead, Red Lantern just barely gave you enough time to feel comfortable in the Alaskan wilderness, and it didn't feel like any of that sledding made a difference.
If they change their pacing so it's a slower exploration with occasional encounters, and if the exploration meaningfully changes the game more than, say, a The Oregon Trail path, it could be an excellent human rogue-lite experience. Hopefully.
TruExtent
I'll admit that I'm a bit stingy when it comes to spending money on games, partially because I figure I can wait for sales down the road and partially because I know I have so many games that if I buy something new I won't know when I'll get to it. And yet when I saw A Short Hike, something about the game clicked to me. I bought it the next day and played it over the course of the last few days. It was short, sweet, filled with little collectibles to find and it was just what I needed. A Short Hike is my highlight.
Der Schlagzeuger
A game I've been waiting on for a long time was Inmost. It only got shown briefly in the showcase but it did reveal the release date so that was cool.
Well I just got through playing it and I'm reeling from a gamut of emotions. That game is creepy and atmospheric, but the overall theme is great and really impacted me with things that have been going on in my life. The final message is just wonderful and it's very uplifting to see a form of entertainment I enjoy doing it's best to share an encouraging moment. Great game that doesn't overstay its welcome.
Leave a Reply