[Let's Talk] Nintendo Direct Mini: Partner Showcase – September 2020 reactions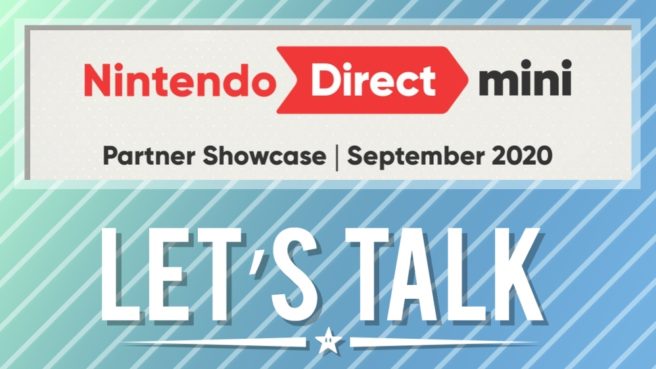 The third Nintendo Direct Mini: Partner Showcase aired earlier this week. Unlike past presentations, this one was live streamed. Generally if Nintendo gives advance notice of a Nintendo Direct and doesn't let you skip through it, there's usually an important announcement.
The broadcast did indeed kick off with the biggest reveal of the show. Switch finally has its first original Monster Hunter game in Monster Hunter Rise, which is already confirmed for a March 2021 launch. And if that wasn't enough, Monster Hunter Stories 2 is coming next summer.
Outside of Monster Hunter, Ori and the Will of the Wisps was revealed and immediately released. Hades and The Long Dark saw shadowdrops as well. In terms of other announcements, we found out about Disgaea 6: Defiance of Destiny, Sniper Elite 4, and Fitness Boxing 2: Rhythm & Exercise. Rune Factory 5 is a game we knew about previously, but we now actually know what it looks like (and the game is now launching in 2021). You can find the Nintendo Direct Mini: Partner Showcase recap announcement here.
With the latest Nintendo Direct Mini: Partner Showcase behind us, how are you feeling about it? What do you make of the new Monster Hunter games and other announcements? Let us know in the comments below.
Highlights from last week's topic: What are you playing? – September 2020
César Tribst
Dragon Quest XI on the Switch, Fire Emblem Warriors on the 3DS, Super Metroid on the SNES and Wii Sports Resort on the Wii.
FutureFox
Trying to finish Link's Awakening. Charming as it is, I do find it kind of boring at times. I think the frame rate issue is the main cause of it.
MD
Star Ocean First Departure R – Mostly liking it so far but I have a feeling there's going to be some heavy grinding before the final boss. Kind of an interesting perspective playing these games after Till the End of Time…
Also played some Mario Kart Tour for those damn pins.
Leave a Reply