[Let's Talk] Pokemon Direct – January 2020 reactions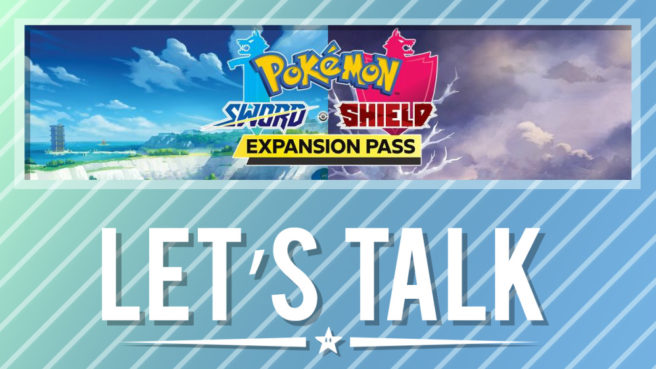 This week's Pokemon Direct was highlighted by two announcements. Aside from Pokemon Mystery Dungeon: Rescue Team DX, we're also getting a ton of new content for Pokemon Sword/Shield with the brand new Expansion Pass.
Pokemon Mystery Dungeon: Rescue Team DX is the much more straightforward announcement, which is probably why it took up significantly less air time. We're getting a remake of the series' debut entry here, and it's coming out very soon. Nintendo will publish the game on March 6, and you can even try out a demo from the eShop right now.
The Pokemon Sword/Shield Expansion Pass is where there's a lot to go over and think about. For $29.99, you'll be getting access to new areas, new Pokemon, clothing items, handy features, and more. There are two aspects to the Expansion Pass, with the Isle of Armor releasing by the end of June and The Crown Tundra following this fall. You can read all about the Expansion Pass here.
Now that the presentation has aired, what did you think about the new Pokemon Direct? Will you be picking up Pokemon Mystery Dungeon: Rescue Team DX? What are your thoughts on the Pokemon Sword/Shield Expansion Pass? Let us know in the comments below.
Highlights from last week's topic: What are you playing? – January 2020
hexer_class
Atelier Ryza, which is my first Atelier game. I'm enjoying the game, the visuals are very cute and so far the more lighthearted story is a nice contrast to the previous game I played, Dragon Quest XIS. I suppose DQXIS also counts, since I've yet to finish the post game.
Megitrev
Finished a lot of games in 2019, but there are some that are in progress, some others in backlog.
Being playing a lot of Mario Kart, don't know why, but i back recently and i am a little addicted on the last 2 weeks
FINISHED
Wolfenstein 2, Mario Maker 2 (Story Mode), Astral Chain, Marvel Ultimate Alliance 3, Mortal Kombat 11, Modern Combat
Still in progress:
Luigi Mansion 3, Pokémon Sword, Fire Emblem Three Houes (Borrowed from a friend)
Need to go back:
Diablo 3, Resident Evil Remake
Backlog:
The Witcher, Bayonetta 2, Mario + Rabbids, La Noire, Dragons Dogma and more
Need to buy:
Fire Emblem Three Houses (i want to have my own copy), Zelda Links Awakening, Daemon X Machina, Yu-Gi-Oh Legacy of the Duelist, Donkey Kong Tropical Freeze, Pokkén Tournament DX and Xenoblade 2.
Dunnington
I'm in the middle of Okami right now, but I got King of Cards and the Spyro trilogy for Christmas so I've been pretty sucked into those.
But I've been playing more multiplayer games with friends as of late, like Smash and Mario Kart.
Babycowland
I recently picked up A Hat in Time. Excellent game. Although the Switch version isn't optimized that well, it really has scratched an itch for me. It's just plain fun (and the soundtrack isn't half bad).
Leave a Reply