[Let's Talk] September 2018 Nintendo Direct hopes and predictions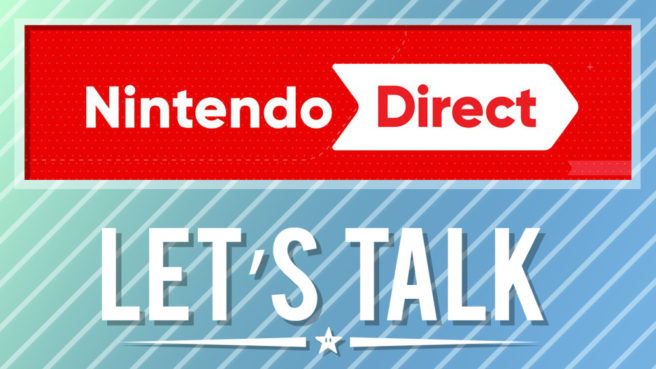 If things had gone as planned, a new Nintendo Direct would have aired this week. Mother Nature decided otherwise, however. Following a major earthquake in Japan, Nintendo decided it would be best to push back the presentation to an unspecified date after it was previously scheduled for Thursday.
Usually Nintendo Directs have a short turnaround between their official announcement and actual broadcast. So because of the delay, we're in a bit of a unique situation. Some possible news that may have been planned for the Nintendo Direct has come out early, including a Mega Man 11 demo, Final Fantasy XV Pocket Edition HD, and Civilization VI. This period of uncertainly also leaves the door open to speculation.
What's everyone hoping for and predicting will happen during the Nintendo Direct? Aside from Mega Man 11 demo, Final Fantasy XV Pocket Edition HD, and Civilization VI, we're also likely going to hear about Yoshi for Switch after the final name seemingly leaked. Smash Bros. Ultimate is also certainly a lock, as is Luigi's Mansion on 3DS. Any other hopes or predictions? Let us know in the comments below.
Highlights from last week's topic: What are you playing? – September 2018
SetzerGabbiani
Deep into Monster Hunter GU right now with the Valkyria Chronicles 4 Demo and Octopath interspersed in there. VC4's demo convinced me that I need to get it on day one…I forgot how addictive the gameplay loop is for that series, and I can tell I'll be spending a ton of time on that grinding for various things.
The content in MonHun GU is ridiculous. There's no real end in sight. Been mainly playing online trying to get my HR unlocked.
TheDonRob
Man I have way too many games to play right now lol. Currently I am trying to play the following: hollow knight (plus dlc), dead cells, pixeljunk monsters 2, semblance (Because of the review on this site!), and okami HD. God I love the number of awesome games constantly coming to the switch!
Lolo
My wife and I have been playing detective Gallo. 🐔 we love putting our brains together and thinking about what do next. We have vowed that when we get stuck, we don't resort to the internet and YouTube. We have days where we have gone to work, and thought about solutions on how to get out of being stuck. The only disappointment though, is the eshop page shows no mention of mild language, and there is language in this game (surprised me). Other than that, this is a point and click game that's pretty awesome.
Leave a Reply