[Let's Talk] September 2018 Nintendo Direct reactions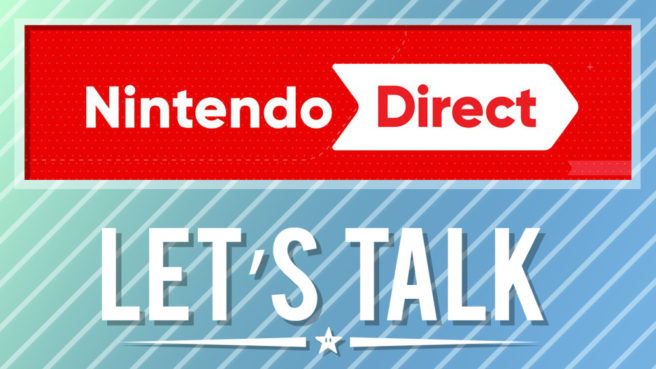 It didn't happen last week, but the new Nintendo Direct finally aired this past Thursday. New first and third-party announcements were shared, while updates were also provided on previously-known games.
Nintendo opened the broadcast with a first look at Luigi's Mansion 3 on Switch. The other big announcement, a new Animal Crossing for Switch in 2019, closed the show. Other notable announcements include Isabelle in Super Smash Bros. Ultimate, New Super Mario Bros. U Deluxe, and Kirby's Extra Epic Yarn. It's not entirely clear if Nintendo will be publishing, but Pokemon developer Game Freak also showed off its new project tentatively known as Town. Of course, this wasn't everything, but those are some of the first-party highlights.
On the third-party front, you could argue that the biggest news came from Square Enix. Mainline Final Fantasy games are finally back on Nintendo platforms with Final Fantasy VII, IX, X / X-2 HD Remaster, and XII: The Zodiac Age for Switch. Square Enix is also bringing over World of Final Fantasy Maxima, Chocobo's Mystery Dungeon Every Buddy, and the previously-announced Final Fantasy Crystal Chronicles: Remastered Edition. Outside of Square Enix was Katamary Damacy Reroll, Capcom Beat 'Em Up Bundle, Cities: Skylines, and board games from Asmodee Digital.
So what'd everybody think of the latest Nintendo Direct? What was your personal highlight? Were you happy with what was shown, or did the presentation leave you wanting more? Let us know in the comments below.
Highlights from last week's topic: September 2018 Nintendo Direct hopes and predictions
MH4
What I'm hoping for:
• Smash is present with at least one new character and one new echo, but takes the backseat to other titles
• Mario Maker Switch
• More Online Service details
• Yoshi Switch details
• Nindies
What will probably happen:
• Online Service details
• Whatever was "leaked"/announced by 3rd parties
• Last-minute plugs for Yo-Kai Watch, Dragalia Lost, and other September games
• Nindies section
• Something Smash-related
• 3DS ports/remakes of older games from GameCube/Wii era
maruseJapan
I want a Metroid Prime Trilogy HD, hopefully with all three games on a single cartridge.
That's basically all I really want, though a completely and surprising new IP couldn't hurt either.
Andrew
Of the leaks, Civ VI definitely would have been the biggest-shame it got leaked, but I can't really blame anyone due to such a sudden schedule shift with the earthquake.
Potential announcements would be elaborating more on know titles, either more recent like Let's Go, or for next year, like Yoshi. For third parties, it would be the same, and I feel like games like Travis Strikes back, Ninjala, and Daemon X Machina would take priority since they're exclusive, as well as any really big Switch third party games. Maybe some Splatoon announcements. 3DS is up in the air, but I lean more towards ports or remixes of existing games, with the odd new exclusive being a title that's been in the pipeline for a while. online is likely, given the leaks, but I'm just assuming that we'll get details about what we know, rather than get any surprises (my pipe dream of a Miiverse successor will likely remain as such, sadly)
AJK
Personally, I want to know that SNES games are coming to the online service. I want to know exactly how these online subscription games work (are we just renting them? Is there a buy option? Do the NES games work even when there's no internet connection?). I want a clear answer with regards virtual console…has it gone forever? Is the online service a replacement? Will we ever get GameCube games?
I'm still shocked that we are at most 2 weeks away from the online service launch and still know pretty much nothing concrete about how it works or even what exactly it is 😮
Lance Devon
Predictions? Unedited Direct about the Mega Man 11 demo, followed by a sea of people who cannot let go of that particular bit for the next year as the only highlight for the Direct.
Actual contents of said Direct? Probably light regardless. 2018 has been a prediction for me to been a lull year with most of Nintendo's major development teams releasing games by the first year cycle of the system. Those same teams are often responsible for other major hitters, but we may see a peek of something the last Nintendo EAD teams may been working on. Animal Crossing and Pikmin 4 are both essentially still on that particular list.
Some highlights on Yoshi, highlights on Let's Go, highlights on Smash to top it off.
Then we got 3DS stuff, and ultimately… Anything they do with it is just going to be a slaughter. I feel we will see more GCN games remade for the system, taking less man-power and resources, but easily recouping sales as the downward trend begins with the system as they're slowly eased into the Switch.
Leave a Reply