[Let's Talk] The future of 3D Mario games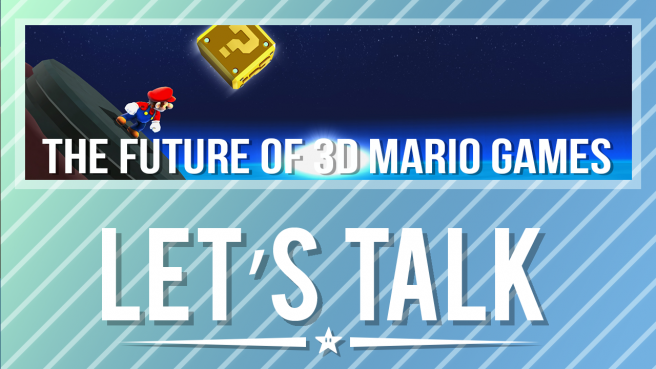 Let's Talk #4: The future of 3D Mario games
3D Mario platformers have done quite a bit since Super Mario 64 launched for the N64 back in 1996. We've seen Mario leap into paintings, explore a tropical island, and even travel through space. Super Mario 3D World, the series' latest entry, also allowed for four-player multiplayer for the first time in a 3D Mario game.
So what's next? Where do new 3D Mario games go from here? That's the topic for this week's Let's Talk!
---
If I'm being completely honest, I'd want to see Super Mario Galaxy 3 above anything else. I absolutely adored the Galaxy games on Wii, and would be very interested to see what Nintendo could do with the idea on another console.
That's not to say I'm against other possibilities! Actually, I'd also be open to another game like Super Mario 64. I feel like a lot of people would love to see a sequel to that game, or something that follows a similar sort of path.
The one thing I absolutely don't want is another game like Super Mario 3D World. I did like Super Mario 3D Land on 3DS (a lot!), and thought World was pretty good. But now I'd like for Nintendo to move on from that overall type of game.
And now it's your turn! Where do you want to see 3D Mario platformers go from here? Do you have any ideas for new titles? Sound off in the comments section, and be sure to check out some of your highlights from last week's topic below!
---
Last week's topic: Which Wii games do you want to see on New 3DS?
IndigoRift
If Kirby's Return to Dreamland happened, I might consider purchasing it. Otherwise, if the Wii game isn't something that's hard to find, I really don't care to see any ports. They need to catch up on N64 and GCN first.
mofi
Something that allows for short intensive bursts gameplay wise. I don´t know maybe Galaxy, MadWorld, Muramasa or something like that
Hexodious
If they make a port of Pandora's Tower and The Last Story, then i'll buy the New 3DS in a heartbeat.
Leave a Reply