[Let's Talk] What are you playing? – October 2018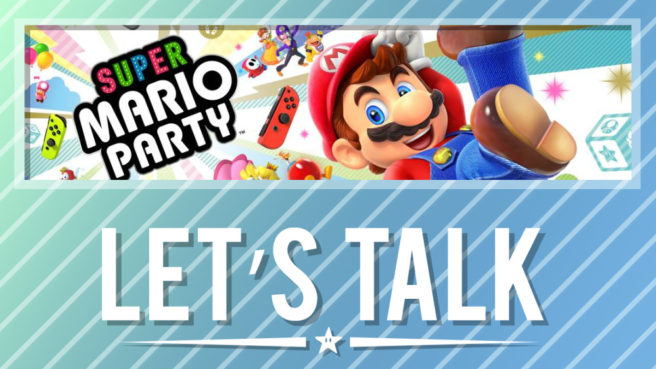 Earlier in the week, a new month rolled right on in. Now that we're in October, we want to know what you've been playing.
Have you started up something entirely new for the month? Giving the newly-released Super Mario Party a try? Maybe you have your attention centered on Mega Man 11 or Dragon Ball FighterZ? No matter the case, let us know in the comments below.
Highlights from last week's topic: September 2018 Nintendo Direct reactions
Mark
Alright, going in order of when I remember them…
Luigi's Mansion 3: I'm excited. I want to see what the new mechanic is; this being Nintendo they never just make a sequel unless it stands out significantly from the others.
Four minutes of 3DS ports: Even the grouchiest of critics shouldn't see anything wrong here. Just four minutes. Come on.
New Super Mario Bros. U Deluxe: Again, I don't see why people should complain about this. Very little energy goes into making ports.
Katamari Damacy Reroll: I'm thrilled that they remembered Katamari, but I hope that this has far more content than the original. We <3 Katamari was a far better game, but if REROLL includes wacky wild challenges that weren't in the original, then I'll buy it. Online: Nintendo has a reputation of holding back content only to surprise us later, and I think that we were all expecting that they were holding back something here. Well, they weren't. I'm not angry about this; it's just not my thing. Town: Interesting... the art style is cool; the idea of the entire game being in one town isn't, but I've played games like that which I love. You just need a really good story to pull it off, something which Game Freak isn't famous for. I'm watching with wary interest. Daemon X Machina is looking cooler and cooler. That's about all. As is Yoshi's Crafted World, but for different reasons. Asmodee Digital: Pure awesomeness. I can't wait to see what else they come up with. And the dungeon-crawling version of Munchkin? I can't wait. Civ VI: Yup, getting it. Square Enixplosion: Just awesome. Half these games I'm not interested in, but that's OK because they announced like seventy games. I'll probably pick up VII, IX, Chocobo, maybe give XII another shot. I keep hearing people excited about World, so maybe that one, too. Isabelle in Smash and Animal Crossing: I'm excited for both of these things, but I think that they didn't do a good job of selling it. I'm really looking forward to later announcements, especially when they eventually talk about the bundle. Altogether, I thought this was an excellent Direct. This is what they should have shown for E3, with a few modifications and tacking on ten minutes of Smash at the end. I don't think anyone would have had any issue then. Auragar
It was decent nothing like mind blowing but definitely better than I had thought it would be and especially if they hadn't delayed it/had things announced outside of the Direct it would've made it that much bit better, but yeah not too bad, but nothing that would melt heads. Definitely best Direct of the year though, which is honestly kind of sad, but eh.
FutureFox
This direct was chock full of surprises.
And to my surprise many people were satisfied with what was presented.
Two franchises people wanted to come to Switch with new entries has been officially answered: Luigi's Mansion 3 and Animal Crossing. I don't play either of those but I'm also not millions strong who DO like those, so kudos to those players getting exactly what they wanted.
Strategically, introducing table top games will be interesting at future game conventions where those are physically often present.
While nice to hear, I'm Final Fantasy-ed out.
Lord Drieg
I'll get the negatives out of the way first. The Nintendo Switch Online segment was awful. Not even gonna remotely try to sugar-coat it. Absolutely no new worthwhile information was given. Even the "Special Offers" could've been clarified to include DLC, like the exclusive Splatoon 2 gear. (Yes, you will be given a code to download special gear in Splatoon 2 if you sign up for Nintendo Switch Online)
The Super Smash Bros. Switch Dock looks pretty good, but those Joy-Cons are SOOOOOO disappointing! You could buy decals or a custom shell with a similar or better design that celebrates Super Smash Bros. than what Nintendo's providing.
Also annoyed that we're a year and a half into the Switch's life and there are STILL no new system themes or My Nintendo Switch Rewards.
Ok, on to the positives.
I'm happy to see Luigi's Mansion return, in both its original incarnation and a new entry in the franchise. Kinda expected news about it coming soon~ish, considering Simon's Smash trailer showed Luigi's new Poltergust. I'm also not a fan of the art direction for the spooks Luigi will have to out-spook in LM3, but I'm excited nonetheless.
Kirby's Extra Epic Yarn looks to be a nice way to introduce Yoshi's Woolly/Crafted World fans to the spin-off's predecessor. The extra modes make it a nice treat for newcomers and folks like me who own the original game to jump in and try this iteration out.
That Splatoon 2 trailer was amazing! The new stage, weapons, subs and specials all look fantastic and I'm breathless in anticipation!
Gamefreak's TOWN looks to be an interesting adventure. I can't wait to hear more about it!
Seeing a little more of Star Fox in Starlink really made me happy! Can't believe that game's only a month away! I'm excited to start flying Nintendo's flagship space fighter squad through a third-party adventure!
The Final Fantasy segment was a wonderful surprise! I've been curious about Crystal Chronicles since it first launched in Gamecube but I couldn't play it. (Too many accessories required to play) I am ecstatic to finally give this a try. The fact that Final Fantasy classics VII, IX, X, & X-2 are also coming to Switch is mind-boggling!
Isabelle. Isabelle, Isabelle, Isabelle! Aw, she's so cute! How could anyone have it in their hearts to wish harm in this adorable assistant? She's a wonderful inclusion to the Smash Ultimately roster, and one I anticipate having trouble unlocking. (She's too precious to harm!)
The rest of the announcements didn't thrill me. Diablo III, Katamari Damacy, Civ VI, Yoshi; not one really drew my interest. No, not even Animal Crossing for Nintendo Switch. I've never played any of the games, so I don't have any interest (currently) in their newest entry. I am happy for Animal Crossing fans, whose hopes were met with relief and joy. The new tidbits about Pokémon Let's Go & Super Mario Party were appreciated, particularly if you missed E3's coverage.
Now if only Nintendo would treat F-Zero fans the same way…
Aline Piroutek
Best Direct of 2018.
A lot of games(and a big hole in the wallet) and ports I always wanted to play in a handheld. Especially World of Final Fantasy(the Vita version has serious framerate issues).
By other side, as a wise man said about paid Online Subscription: "We have a wide variety of consumers, from the ones who enthusiastically play video games to those playing more casually, who are not always interested in them but try to play a game only when it has become a public topic or play it just during certain periods, like a year-end season and summer vacation. We therefore believe that services which ask our consumers to obtain paid memberships are not always the best"
"We cannot promise here that Nintendo will always provide you with online services free of charge no matter how deep the experiences are that it may provide, but at least we are not thinking of asking our consumers to pay money to just casually get access to our ordinary online services."
I agree with all of his words, Satoru Iwata
Crimson Hat
It was… Ehhh. I am very hype for AC Switch and Isabelle was great as was Luigi's Mansion 3. The extra info on Moon Rabbit Crew was nice too, but Online Service really stole the show for being UTTERLY AWFUL! I simply can't believe just how anti-consumer it is? What were they thinking with this?! Log back in every week to play the NES games? Still with that dumb Switch online app? Cloud saves are deleted right when your subscription ends? The best thing to do about something this poor, is protest with money. Don't spend anything on this poor excuse of an online service.
Leave a Reply