[Let's Talk] Which indie games are you looking forward to on Switch?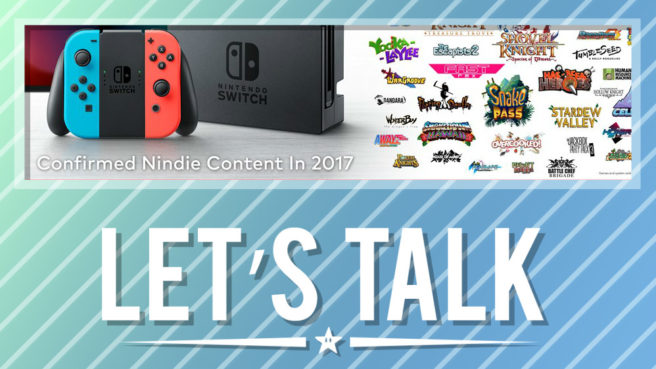 The verdict is out on just how much third-party support Switch will receive. If there's anything we can count on though, it'd be indie support.
The Switch Nindies Showcase from the end of February proved just how much smaller developers are comitted to the platform. SteamWorld Dig 2, Runner3, Flipping Death, and Wargroove were just some of the games announced.
These aren't dinky little games we're talking about here. The SteamWorld series has received wide acclaim. Everyone knows just how good the Runner games are. Flipping Death is the spiritual successor to Stick it to the Man. Wargroove should interest Advance Wars fans who haven't been shown much love lately.
And again, this is just a tip of the iceberg. Yooka-Laylee, Stardew Valley, Pocket Rumble, Shakedown Hawaii, TumbleSeed, Graceful Explosion Machine, Overcooked, and Thumper are among the many titles in the pipeline. Even better, most of these titles are coming this year.
So what's on your radar right now? Are there any games in particular that tickle your fancy? Let us know below!
Highlights from last week's topic: What are you playing? – March 2017
capitalism1023
Zelda, Bomberman, some 1-2 Switch, and Shadow Warrior 2 on the PC/Shield TV. Zelda is on another level though and the other night I sank 7 hours into it like it was nothing.
The Switch is a dream console and everything just comes together so elegantly. The HD Rumble, portability, motion controls, and pro controller give you an experience that you can't get anywhere else. Also, I love that Nintendo went back to cartridges. I don't have to worry about my kids handling games anymore and they'll just last longer in general now.
masterjedi
Like most, I'm playing a TON of Zelda. I've never experienced a game quite like it. Phenomenal. But I'm also enjoying bit sized sessions of 1-2 Switch and Snipperclips with my daughter. I was VERY tempted to grab Fast RMX because it seems like a pick up and play, frantic fast paced race game which is sometimes exactly what a person needs. But for as much as people were skeptical about 1-2 Switch, we are having a blast with it and Snipperclips is surprisingly robust and fun. I'm good till Mario Kart. Fast RMX though, might have to take the plunge and get it…
burchdude65
A ton of Zelda. Every day.
Invitado
I have been playing Zelda between worlds and wind waker (NGC) because the switch hasn't came, the parcel service (UPS) is very bad
Leave a Reply