[Let's Talk] Your favorite memories of Reggie Fils-Aime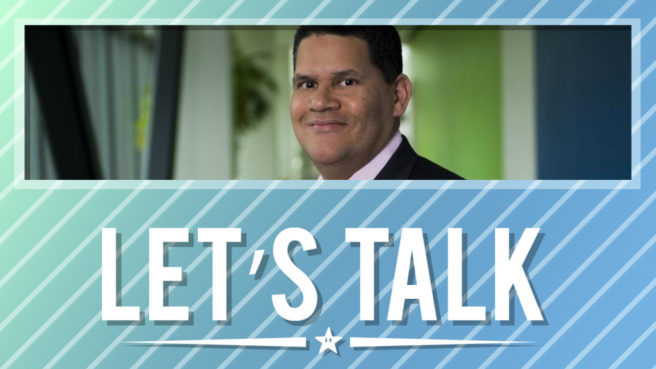 It was the end of an era this week with Reggie Fils-Aime retiring from Nintendo of America. Reggie had a lengthy stay with the Big N having been there for over 15 years, including his role as president for 13 years.
Reggie was very different compared to your average company executive. He developed a fan following thanks to his personality, various appearances, and meme-worthy moments. Reggie was on stage at E3, in video presentations, at launches for new systems and games, and more. He was never afraid to embrace the community or poke fun at himself either.
Since Reggie has retired from Nintendo, we want to know what your favorite memory is of him during his time at the company. Was it his initial introduction at E3 2004? The time when he said "What's wrong with you?" if you didn't own a 3DS during one of the first showings of a Nintendo Direct presentation? Let us know in the comments below.
Highlights from last week's topic: What are you playing? – April 2019
Mario21238
I'm just discovering the fascinating world of Indie games for the Nintendo Switch. Just bought Celeste, Furi, Enter the Gungeon and Jotun. How come I've been missing these games all this time? Eagerly awaiting Cuphead!
MD
Just finished I Am Setsuna on the Switch this morning. Great JRPG overall but I have mixed feelings about the ending. I liked the general theme of sorrow & loss with the snow & beautiful piano soundtrack. 20 hours was a good length for the game in my opinion.
I've been wanting to play the first two PS1 Suikodens on my Vita so I'll probably start those now. And I'm chipping away at Blaster Master Zero so I can justify buying the sequel 😛
MagcargoMan
Well I've only played about two times this month, but I've gotten back into Mario Maker, due to finally reaching 100 Stars. I decided to play the levels of someone on a Discord server I'm in and gave him enough stars to get him to 150, allowing him to upload up to 30 levels, and he repaid me with stars in return.
Currently I have 108 Stars. I'm hoping to gain 150 before Mario Maker 2 rolls around, so I'm definitely gonna be playing more this month. Maybe I might finally upload a new level soon, since I haven't done that since I hit the original 10 level limit.
FutureFox
Octopath Traveler. Over 90 hours in and still discovering things. Pretty good game. If a sequel is rumored to be in the works I'm down.
Leave a Reply