[Let's Talk] Your thoughts on Nintendo's E3 2015 performance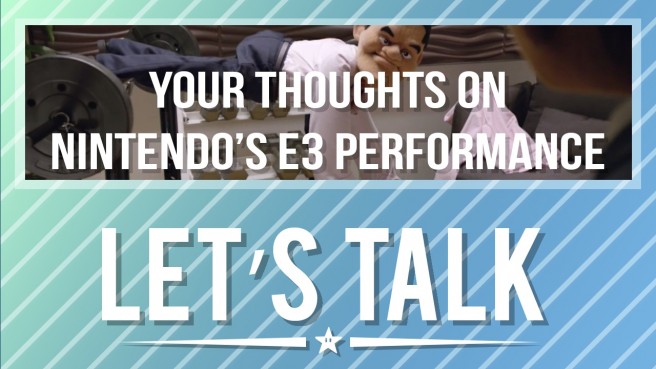 Let's Talk #13: Your thoughts on Nintendo's E3 2015 performance
Well, that's it! Another E3 is in the books. Now it's time to talk about it all.
Just like last year's E3, Nintendo did quite a bit in conjunction with the show. The Smash Bros. presentation kicked things off on Sunday morning, followed by the Nintendo World Championships later that night. The Nintendo Digital Event was on Tuesday, and the Treehouse Live streams lasted for three days.
As it was where the big announcements were made, I'll be focusing on the Digital Event. You guys can feel free to discuss any part of Nintendo's E3 presence, however!
To recap, below were the big announcements from the Nintendo Digital Event:
Wii U
– Star Fox Zero revealed, PlatinumGames working on the project
– Animal Crossing: amiibo Festival announced, out this holiday, amiibo figures revealed
– Mario Tennis: Ultra Smash announced, out this holiday
– Skylanders SuperChargers is getting Bowser and Donkey Kong figures that also act as amiibo
– Super Mario Maker: out September 11, new amiibo officially revealed
– Xenoblade Chronicles X: out December 4
– Yoshi's Woolly World: out October 16
– New Shin Megami Tensei X Fire Emblem trailer, reconfirmed for 2016
3DS
– The Legend of Zelda: Tri Force Heroes announced, out this fall
– Mario & Luigi: Paper Jam announced, out spring 2016
– Metroid Prime: Federation Force revealed, out in 2016
– Hyrule Warriors Legends confirmed, out Q1 2016
– Animal Crossing: Happy Home Designer: out September 25
– Yo-Kai Watch: out this holiday
– Fire Emblem Fates gets its final name, reconfirmed for 2016
So that was the big stuff. Looking back on everything, how do you guys feel about what was shown? I'll kick things off with my own thoughts below.
---
Man, there is a whole lot to talk about concerning the Digital Event. The general impression, unfortunately for Nintendo, seems to be leaning towards the negative side.
Once the Digital Event ended, I was a bit disappointed myself. For a few reasons.
For one thing, there wasn't much new announced for Wii U. Animal Crossing: amiibo Festival and Mario Tennis: Ultra Smash were the only games we didn't know about before for the console. Both are due out later this year. What do we have to look forward to in 2016 aside from Shin Megami Tensei X Fire Emblem? I hope we see some announcements later on in the year!
Metroid Prime: Federation Force is a strange thing for me. On one hand, I'm happy that we finally have a new Metroid. On the other hand, it doesn't feel much like a Metroid game right now. I'm not personally liking how it looks currently, but I'm very much willing to give it a shot. Let's see what happens as development progresses.
Looking back on it and really reflecting on things, the Digital Event wasn't awful in my opinion. Don't forget we had E3 presentations like in 2008, which featured a whole lot of Shaun White Snowboarding and Wii Music. It definitely wasn't Nintendo's strongest, and last year's event was much more exciting by comparison.
Some other random thoughts: where was Devil's Third? Did anyone else feel like the Digital Event was missing "one other game" or "one big title"? After the Mario Maker bit, I was hoping Nintendo would have one final title to reveal. The puppets were lovely, but some segments felt like they ran on too long. Considering Yoshi's Woolly World was featured in last year's Digital Event and is launching extremely soon in Europe in Japan, a trailer probably would have been enough.
Okay, that's enough from me. I better stop now. My brain has melted from E3 coverage, so I'm probably just rambling on too much at this point. Let us know what you thoughts about Nintendo at E3 2015 in the comments below!
---
Highlights from last week's topic: E3 2015 hopes and dreams
Timppis
In order of preference.
New IP – Large scale JRPG but with more fantasy settings than Xenoblade games. FF9 or White Witch -style.
Paper Mario – Have to have this. The rumors must be true
Star Fox open world game – Not going to happen unfortunately
New line of Mario Sports games, highlighted by Mario Strikers 3 with HUGE career mode – Also not going to happen.
Mario sports games in general – Baseball, Rugby/American football mashup, Basketball, anything. -Not happening
Super Mario Sunshine HD – Plausible
Resurrection of any of these franchises – Waveracer, Golden Sun, 1080 Snowboarding, Advance Wars, Earthbound… – Also not going to happen
Im going to be so disappointed this year… I just know it ;_;
AJK
A new Metroid is the dream really. Ideally a new Prime type game.
Also please please please don't let Starfox be underwhelming. I have waited since Starfox 64 for a decent Starfox shooter. My fear is that they might try something gimmicky instead of sticking to what made the first 2 games so great.
My final wish would be a new Golden Sun game on 3ds.
Vorsun
I'm probably alone on this, but I really wanna see more of Devil's Third. That game is shaping up to be a really fun 3rd-person hack-and-slashooter. And of course I want Nintendo to be playing another trick on me and show a trailer for Zelda U, even though I'm sure there won't be one.
As far as games I want them to announce, I would love for Retro's new game to be Metroid Prime 4/Dread/whatever, but I'm torn because I also want them to do their own IP. I want Platinum's game to either be Vanquish 2 or Wonderful 102 or… dare I ask for God Hand 2? With Bayonetta 2 being Wii U exclusive, the possibilities are astounding. And of course, as always, my greatest desire is Custom Robo U/3DS. I will not be satisfied with some cardboard cutout trying to be Custom Robo. I need the real steel deal.
icecreamperson
So I want a couple of things….
An hd remake for zelda for wii u
a new big 3d mario game announced in the vain of galaxy, sunshine or 64 fr wii u
a new paper mario announced for wii u
diddy kong racing for wii u announced
Leave a Reply