[Let's Talk] Zelda: Breath of the Wild reaction and Nintendo's E3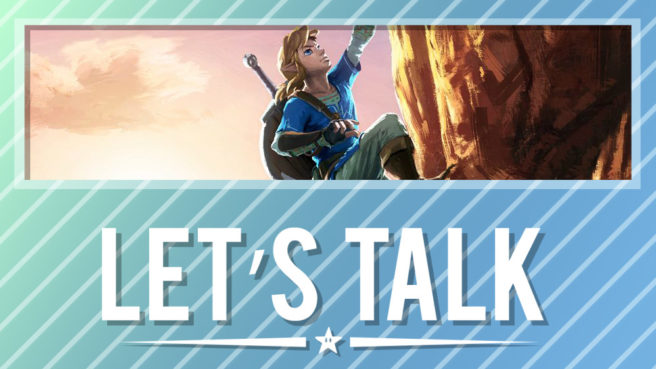 Just a week ago we were talking about what we wanted from Zelda: Breath of the Wild and Nintendo as a whole at this year's E3. And now… it's over! With everything so fresh, it's a good time to talk about it all.
There's no question that Zelda: Breath of the Wild was the highlight at E3. Nintendo kicked off the show with a trailer, followed by hours of coverage on the Treehouse stream. The game was a very hot commodity at E3. Even though Nintendo's entire booth was dedicated to Breath of the Wild, that wasn't enough to prevent massive lines.
Aside from Breath of the Wild, there was quite a bit more to Nintendo's E3 than we would have thought a few weeks ago. A brand new 3DS action-RPG, Ever Oasis, was announced. We also heard about new amiibo, Mario Party: Star Rush, BoxBoxBoy! in the west, and Rhythm Heaven Megamix even had a stealth launch on the North American 3DS eShop. There were also release dates and coverage of games like Paper Mario: Color Splash and Dragon Quest VII.
With everything that happened at E3, what's your reaction? What do you think of Zelda: Breath of the Wild thus far? If you have any thoughts about Nintendo at E3, be sure to tell us in the comments below!
Highlights from last week's topic: Nintendo at E3 2016
FinalArcadia
Really hope they've got some surprises in store, because knowing everything in advance would be really disappointing. I'll take even relatively minor things like a new round of Mario Kart 8 DLC or something like that, as long as its a surprise. Maybe Pokemon G/S/C on VC? That'd be pretty neat too.
Annie
I'm pretty excited for Zelda and Pokemon <3 both games look very promising, sucks that this E3 won't be that big for Nintendo but we still have the rest of the year to expect some Nintendo directs and the big NX reveal Jon Turner
This E3 will not be a memorable one for Ninetndo fans for sure, but hopefully ZELDA NX will be good.
AJX
I am of course looking forward to more news on Zelda as it is by far my favourite gaming franchise. But, by devoting the entire presentation to one game, as great as that game will hopefully be, they risk overkilling that game.
I hate to be yet another fan who thinks they understand whats best for Nintendo, but from a purely selfish standpoint I really do think e3 was the time and place to finally talk about the nx.
Leave a Reply