Mario Golf: Super Rush giving Mario's overalls as Ranked Match reward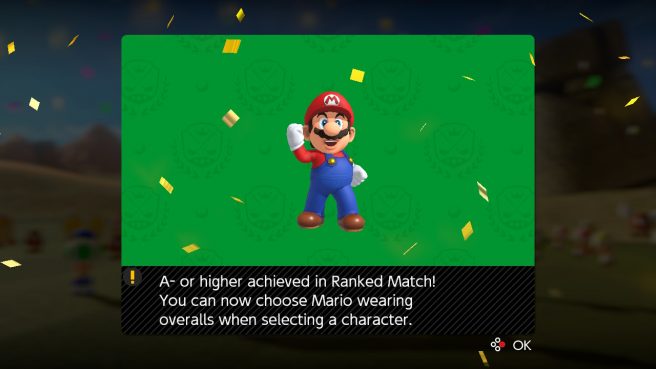 Just like we've seen over the past few months, Mario Golf: Super Rush reset its Ranked Match feature to kick off December, and players now have the chance to unlock Mario's overalls in the game.
Obtaining this reward is actually pretty simple. You'll just need to reach the rank of A- or above by the time December ends. You can increase your rank by playing matches, competing well against others, and defeating higher ranked opponents. After unlocking Mario's overalls, you can go to the select screen in Mario Golf: Super Rush, hover over the character, and press the "L" button to swap outfits.
Ranked Match and the related rewards started to become a thing in Mario Golf: Super Rush this past September. For that month, players could unlock a Boo visor. For October, new colors for Toad were available for a few weeks. November brought us a number of new colors for Koopa Troopa. Although there currently isn't a way to obtain these previous rewards, Nintendo may bring them back at a later date.
Mario Golf: Super Rush, which launched this past June, is available for Switch. You can find more information about the game on the official site here.
Thanks to Cameron for the tip.
Leave a Reply