Mario + Rabbids Kingdom Battle, LEGO DC Super-Villains panels set for E3 Coliseum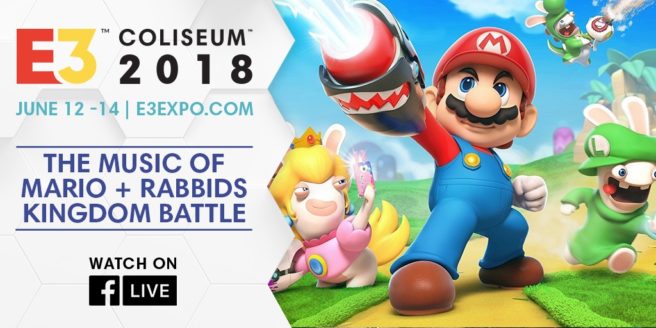 E3 Coliseum will be featuring a pair of notable Nintendo-related panels next week.
First up, Mario + Rabbids creative director Davide Soliani, lead producer Xavier Manzanares, and composer Grant Kirkhope will be stopping by for a session on Tuesday. The plan is to delve into the "exploration of the music behind this acclaimed game."
As for LEGO DC Super-Villains, a panel on Wednesday will "provide fans with a look at the villain creator, the story and new character reveals." Developers and voice actors will be on hand.
Here's a rundown of both panels:
The Music of Mario + Rabbids Kingdom Battle

Grant Kirkhope, Composer – Mario + Rabbids Kingdom Battle
Davide Soliani, Creative Director – Ubisoft
Moderator: Geoff Keighly, Executive Producer – The Game Awards

Leading into the release of the Donkey Kong Adventure DLC, join composer Grant Kirkhope, Creative Director Davide Soliani, and lead producer Xavier Manzanares for a fun, musical exploration of the music behind this acclaimed game.

(June 12 at 1 PM PT / 4 PM ET / 9 PM in the UK / 10 PM in Europe)

LEGO DC Super-Villains: An Inside Look at the Villain-centric Adventure Game

Arthur Parsons, Head of Design – TT Games
Ames Kirshen, VP, Interactive & Animation – DC Entertainment
Justin Ramsden, Designer, Super Heroes, The LEGO Group
Clancy Brown, Voice of Lex Luthor
Erica Luttrell, Voice of Cheetah
Moderator: Joshua Overnshire

Join the team behind the LEGO DC Supervillains video game, including Arthur Parsons (Head of Design, TT Games), Ames Kirshen, (Vice President, Interactive & Animation, DC Entertainment), Justin Ramsden (Designer, Super Heroes, The LEGO Group) and actors Erica Luttrell (voice of Cheetah) and Clancy Brown (voice of Lex Luthor) for an inside look at the first LEGO game to put players at the center of a villain-centric adventure packed with favorite locations and characters from across the DC Universe. Moderated by The Jovenshire, this celebration of villainy will provide fans with a look at the villain creator, the story and new character reveals. Players have the ability to create and play as a super-villain throughout LEGO DC Super-Villains unleashing mischievous antics and wreaking havoc in an action-packed, hilarious story written in collaboration with DC Comics. The game will be released on October 16, 2018.

(June 13 at 12 PM PT / 3 PM ET / 8 PM in the UK / 9 PM in Europe)
Leave a Reply