Mario & Sonic at the Olympic Games Tokyo 2020 dev on using the Joy-Con, characters, new elements, more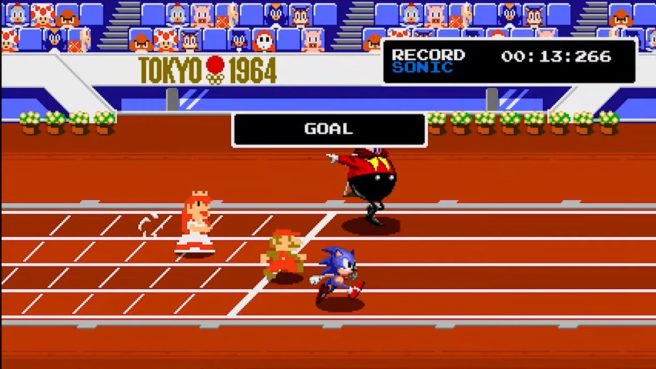 At E3 2019, Dengeki was given an opportunity to interview Mario & Sonic at the Olympic Games Tokyo 2020 producer Nobuya Ohashi. Ohashi weighed in on a number of different topics, including the controls and using the Joy-Con, the game's roster, and new elements included this time around.
We've now prepared a full translation of Dengeki's discussion with Ohashi. Read the full discussion below.
What makes this game different from its predecessors?

There will be events added for the real 2020 Tokyo Olympics. Out of those five new events, four will be included in this title. These are surfing, skateboarding, karate, and sports climbing, which was not included in the E3 version. Players can complete in all of the 21 included events using both buttons and movement of the Joy-Con, which give a closer feel of actually competing.

Can you give us some examples of those controls?

For example, in the archery event you can play with either one or two Joy-Con. For now, I'll explain using two. With those you can use your left hand to aim and you right to fire the arrow. So it feels like you're actually holding a bow.

With the Joy-Con's release, have you looked at the controls differently from a development point of view?

The Wii title also had that ability to play in a unique way, but I think the control horizons have broadened far more for with the Switch. For example, in the 100 meter race we've been able to create a feeling of motion like nothing we have managed before. On the starting line you put your hands to the ground like the athletes really do, and for the hurdles, rather than just waving a Wiimote, you put your hands out in front as you press the button, as if you are clearing the hurdle yourself. By allowing the player take the same poses as the character on the screen, they get the feeling of really being in their shoes, which then creates that sense of competing in real life.

From the video it seemed like two people were playing the canoe event cooperatively, but what's the situation of multiplayer in general?

There are lots of events meant for versus play, but there are also those there for cooperative play. Connected to the internet up to eight players can play together, depending on the event. Since all the events are different, something like karate will only allow two players, while a hundred meter race will allow up to eight. And then there's also the option to play the Switch in table top mode, so there are lots of choices for the player.

Are there are differences between the TV and tabletop modes?

When playing outside there's always the chance that the screen will become harder to see because of the smaller size. For that reason, we thought a lot about the layout of the smaller screen in development.

Are there more characters this time around?

There's the same amount, but each character will wear the appropriate sporting dress for each event. For example, in the Karate I mentioned earlier Mario competes wearing a padded undershirt. As part of the appeal of the game is the characters themselves, we've added bits like this that I think can increase the appeal of each one.

In previous entries in the series story modes have been included. Is one included here? If so, please tell us a bit about it.

All I can say is that we intend to include something to represent that moment of making an appearance at the Tokyo games. I know there were some players who saw the E3 trailer and asked those same questions, but all I can say is for them to keep their eyes peeled for more details. I think this will be a package with quite a lot of depth.

Which new event do you really think you have portrayed well?

That would be karate. Real Olympic karate is broken up into sections, and for a newcomer to the sport it can be a little hard to understand. In the game we have our own specific rules, but I think the feeling of Karate is still there; I think we have managed to capture the real charm of it. Each successful strike earns a point and to stop the fights becoming dull we have gone with the three deadlock system of: strike, grab and guard. The player must read their opponents movements and wait for an opening to attack.

Aside from that, I think skateboarding turned out really well. I'm not someone who usually skateboards – well, actually I don't do karate either (laughs) – but I feel like those who do will be able to pick it up quickly and have a lot of fun.

What event has had the best response from those that had the chance to play?

There were a lot of people who chose skateboarding. Also from what I heard karate was popular, even with those people that have never tried it in real life.

What did you think of the showing at E3?

Honestly, I was flabbergasted. (laughs) Not only did they have a track for running on, but they even had a climbing wall! We're going to have to pull out all the stops in development to make sure we aren't shown up by that excellent booth showing.

How is the development of the game progressing?

It's going well and we are now into the final checking stage. At this point we're looking at how we can make the game easier to play and also give it more depth.

This time around the game was shown off at an American event, but do you have plans for showing the game domestically?

Yes, we are planning something domestically at some stage. I think we'd like to show the game off sometime in the autumn. I would also like to see some sort of competitive events taking place after the actual launch.

What were the development team keenest on improving this time around?

With hardware improving all the time, the type of things we can do with the series keep increasing. Each time we develop one of these games, the thing we are always keen to show is that true sense fun that sports can bring. Since this is not a game based on a single sport, we have to think about how to make each of those sports fit in with the overall experience, which takes a lot of work. I think our efforts have paid dividends, though, so I hope everyone will try the game out and see for themselves.

Which things would you like players to see most?

Each events has its own appeal. I'm keen, though, for everyone to see how much we've changed the technical play of events that have appeared in the series before. This game will be available half a year before the opening of the real 2020 Tokyo games, which means some of the real stadiums may still be under construction, but in the game they will all appear finished. So players can get a feel for what the real atmosphere will be like though the eyes of Mario and Sonic before the real Olympics even begins. During the Olympics there are a lot of people who watch sports that they wouldn't normally. By that same token, to all those players who don't normally go in for sports titles: this game has such a low entry-level, so please pick it up and give it a try. If you then end up liking those sports in real life, all the better!
---
Translation by provided by Corks on behalf of Nintendo Everything
If you use any of this translation, please be sure to source Nintendo Everything. Do not copy its full contents.
Leave a Reply